---
Hi, I'm Robert - Nothing important here, just keeping friends, family etc. up to date - If you landed here by accident, I hope you find something useful. Links I like at right, blog at left, enjoy!
---
March 2008
Happy Birthday Ma!
January/February 2008
Got to spend a great few days on a mini-tour of Missouri with Alan Parsons and his band and crew. First two shows in St. Charles, MO (during one of the worst winter storms of the season). Thanks to Alan and Lisa for letting my friends from work into sound check. The next day, off to a great show in Kansas City, where the Alan Parsons Live Project played to a packed house of 1,300 very enthusiastic fans. It was a great show. In the audience, most of my band, who made road trips to the shows. Thank you to Alan and Lisa, especially for getting me into the KC show when I waited too long to pull the trigger and the venue sold out! Thanks to Juan for taking me backstage in KC to the sound check. And a big thank you to John Montagna for hanging after the show and chatting with us for so long. Great show Alan, P.J., Steve, John, Manny and Godfrey! Thanks also to fans Julie and George from Omaha, Tammy and Rich from Iowa and Dan from DeKalb, IL. So good to see all of you again! Looking forward to seeing all of you in Vegas in September!
---
Sorry, it's been a long time since I 'checked in' For awhile I considered just ending the blog... I only like being positive here and it hasn't been all that positive. That said, there have been positive moments: We rehearsed here in Freeburg in January and it went quite well. We rehearsed down in Springfield, MO and that went quite well. While is Springfield, we shot a bunch of band photos and I'll post the pick of the litter here soon. The band got all the strings tied on the album and got it to the duplicators... and we waited... And it came back! Soon you all will be deluged with sales calls. Buy Parliament of Fooles by Rubber Universe from us or cdbaby.com AFTER the March 18th release date. You'll love it, it's great!
December 2007
Happy New Year to all! I want to thank all of my friends, co-workers and family for all of their support and love. It's been kind of a tough time and I really appreciate all of your support. I really love my co-workers and my former co-workers who've moved on to other endeavors. You guys have really made it all worthwhile and I thank you. I also thank my band mates, all of whom I've not gotten to see enough of this year. We'll all hopefully get together here in Freeburg next weekend. With that, I'm off to Sorefoot Studios in Hillsboro, MO for a New Year's celebration! Let's make 2008 a better time.
---
Dan Fogelberg has passed. I am typing through tears...
Dan's music meant a great deal to me. As the Raven Flies was among the first songs I ever learned on the guitar. As a teen, I interned at WLRS in Louisville and they gave me some of Dan's sheet music as a parting gift.
When I married Jane in 1988, we used Tullamore Dew as our procession music and performed Dancing Shoes for our appearance on stage at the College of DuPage's theatre. During our marriage, we were lucky to see Dan in concert a couple of times. I have sent her my condolences.
I knew that Dan was ill, but did not know how bad it was. My thoughts go out to Dan's wife, Jean.
Dan's Nether Lands was a huge inspiration to me and I will miss him very much.
November 2007
This month was all about work, except for three very nice events: Earlier in the month, Amy Brooks' sixteenth birthday celebration at Sorefoot Studios in Hillsboro, MO. Had a fantastic time and I just can't believe Amy is sixteen. Thank you Amy for having me out for your party.
Then for my Thanksgiving, I had a nice relaxing weekend. On Thursday, I watched football and relaxed with a feast of a huge rib eye on the charcoal grill with garlic mashed potatoes and beef gravy. On Friday, Jeff and Deb Bowman kindly invited my good friend and former co-worker Onur and me out to their place in Eureka, MO for a traditional Thanksgiving feast with their folks and siblings. There were tons of great conversation and food and it was so nice to have some of Deb's great cooking and some traditional Thanksgiving fare that I couldn't justify making for just myself. Then Saturday, my good friend and co-worker Lynda had a bunch of friends over. We played board games and noshed on the great things Lynda and her charming friend from the east coast, Edina, had made for us. It was a really fun evening. Lastly on Sunday, hats off to the Chicago Bears and Devin Hester, whose two kick runbacks and Bernard Berrian's incredible TD catch made today's game so exciting. Still alive.
Next up is a rehearsal here in my home studio in a couple of weeks with the band. Hopefully there will also be time to pilot some cover tracks I've wanted to produce. I'm also doing some songwriting - nothing yet ready for the band, but the creativity has been bubbling up. After rehearsal will be my Xmas holiday vacation, during which I hope to set back up a modest ham radio station. I miss playing radio.
October 2007
I took a few days off and headed over to Louisville for a visit with family and old friends and two shows with Walker and Kays. I jumped in the convertible and drove over on Wednesday, just in time to arrive at Clifton's to greet bass player Sonny Stephens and help him in for set up. As I did and greeted old regulars Max, Lane and Joanne, I didn't notice that my good old friends Kevin Garvey and Julie Dobbins were watching me. They called out to me and we were reunited. I hadn't seen Julie since high school 26 years ago! Thank you so much to Kevin and Julie for coming to the show! You both look like a million bucks and it was great to see you! Come visit me in Freeburg!
The next night, Jeanette Kays and Greg Walker played Louisville's great Jazz Factory with David Crites on bass. For this show I was delighted to be joined by my high school sweetie, Julie Kredens. It was so good to see everyone again after a year and some change away. After the show, I took Julie on a quick ride in the Miata and probably scared her to death demonstrating the acceleration on the on-ramp from 9th St. to I-64. Thanks Jules and next time, let's take a more leisurely trip to one of Kentucky's beautiful distilleries!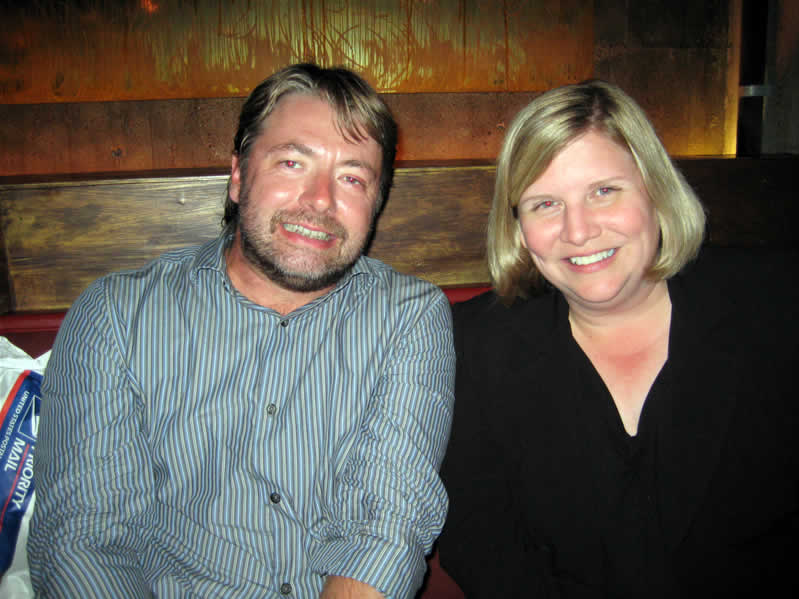 Julie Kredens and me at The Jazz Factory, Louisville, KY
Before the Jazz Factory show, my Ma and I attended a showing of a documentary on Old Louisville's Victorian mansions at the Speed Art Museum. Thanks to my Ma for her generosity and hospitality during my brief visit. I really appreciate it.
September 2007
I joined up with friends again a week later at Milwaukee and Elgin (IL) for consecutive nights of Alan Parsons Live Project shows. Dear friends Sue and Steve Martinak came to the midwest and joined us for shows with most of my band and a few new friends, notably, Dan, who met us all by accident and had the night of his life when Andy slipped him his backstage pass. Dan, we'll never forget your enthusiasm. Thanks also to Tammy and Rich Stocker - it was great seeing you both again.
Thanks to Alan, Lisa and Sandra for getting me into the sound check at the Hemmens I got to sit right beside Steve Murphy's drum kit during the rehearsal and it was a real thrill. John even had me come out and stand next to him to experience the sub-woofer they brought out to enhance the bass response and it was thunderous.
Thank you to Tammy and Roger who with Gina, arranged a buffet dinner for 40 of us at Prairie Rock Brewing Company before the show in Elgin. Roger and Tammy then so graciously put many of us up in their amazing home in South Elgin after a great party showcasing their studio and basement recreation area. If only we could have gotten there earlier - it's an amazing place and Tammy and Roger are extraordinary hosts. Big thank yous to Tammy, Roger and all their friends - it was a great night.
After a night, indeed a week and a half of so much fun, I drove by my old house in Carol Stream, IL. It's still there. None of the landscaping I did is still there but I did notice all of the trees are so much bigger. I made a couple of calls to the old ham radio repeater of my radio club in Wheaton, but got no answers, so I headed on home.
It's been a great September - thanks to all of my friends.
---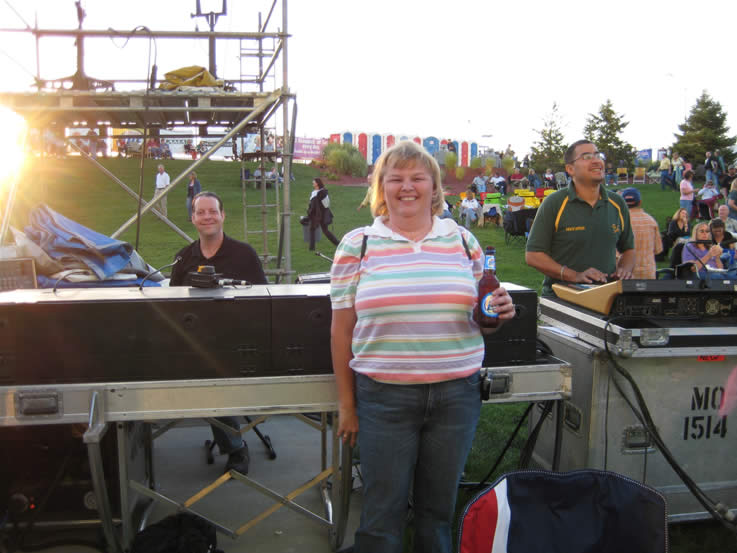 Gregg Rubin on house sound, Ann Brooks and Martin on lights at Council Bluffs, IA
The first of two great road trip weekends to see Alan Parsons, I took my good friend Ann Brooks in the convertible to Council Bluffs, IA, just across the Missouri from Omaha, NE for the first show at Harrah's Casino. The Omaha Symphony played with Alan and the guys and the concert was just a smashing success. We met our new friend, Julie, who hails from Omaha and it was her first APLP show. She found us on Roadkill and is a delightful person and it was so much fun watching her take in her first show.
Alan's bass player, John Montagna, played a magnificent and simple practical joke on me in the casino just after I nursed a beer perhaps a minute past last call at the blackjack tables: He sneaked up behind me, placed a gentle hand on my shoulder and spoke firmly into my ear, "Sir, would you mind coming with us..." as I about fainted. Very funny, John.
---
Spent a great Labor Day weekend with friends and co-workers - first went with Dave and his friend, Mike, to the to the St. Louis County Fair and Air Show at Spirit of St. Louis Airport in Chesterfield, MO. Saw lots of cool aircraft and had my first corndog! We met David Ronat at the fence against the runway where he was shooting pix of the show. After the show and looking around at the static show, we headed off to the Greek Festival in Forest Park at St. Nicholas Greek Orthodox Church for some great food and drink. The following day we headed to the Japanese Festival in the Missouri Botanical Garden. I met David's wife, Gina and he showed us the bonzai exhibit, in which he was an exhibitor. We saw some beautiful trees and Gina gave me a tour of the gardens after we scarfed down some sushi. It's a beautiful place. And St. Louis is a great place to be Labor Day weekend.'
August 2007
Spent a great day out this past weekend at Lake of the Ozarks with good friends and ex-co-workers Onur, Toni, Sunita and her husband Tarun, Sandeep and his SO Shilpa. We rented a terrific boat and took it up north on the lake and did some water skiing and just hanging out. Then we picked up a couple of wave runners and had some fun on those as well. The weather was just perfect. It was a great day. See pictures at Sunita's flickr album here.
---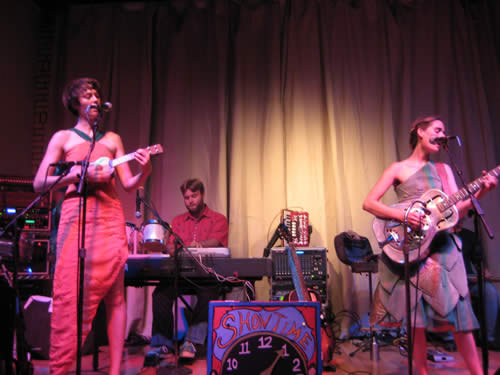 The Ditty Bops, Amanda Barrett and Abby DeWald, with Greg Rutledge on piano, click for larger
Thanks to Dave and Onur for joining me at Mad Art gallery for the return of The Ditty Bops, Amanda Barrett and Abby DeWald. The 'Bops had Greg Rutledge on piano and John Lambdin on fiddle and steel guitar for this tour and it was great to see all of them again. I decided to play a little trick on Abby and Amanda as a twist on my traditional request of the song 'Short Stacks,' which means so much to me. I typed up a "set list," very official looking, that said:
Official Ditty Bops Set List:
1. Short Stacks
2. Short Stacks
3. Short Stacks
4. Short Stacks
5. Short Stacks
6. Ooh La La
7. Sister Kate
8. Short Stacks
9. Short Stacks
10. Short Stacks
11. Short Stacks
12. Short Stacks
13. Short Stacks
14. Short Stacks
15. Short Stacks
Seriously though, Welcome back to St. Louis, Abby and Amanda --love, Robert
So, as Amanda and Abby came out, they noticed the list and both looked very puzzled and started playing their set, occasionally peering down at the sheets. Slowly realization came over both of them and Amanda especially seemed to be bemused and continued to look every now and then at the list. For the third song, she said, "Well, we didn't have this song on the list, but [picking up the sheet and showing it to the audience] Robert really wants to hear 'Short Stacks,' is Robert here?"[I wave from the front row]. Amanda smiled and they played it. I was so happy in that moment.
Amanda told me her train of thought about my little stunt in between shows: She thought a previous act had left them behind, then seeing her song titles, wondered if the management had left them, then of course reading my last line, realized it was me. I thanked her for playing it, said goodbye to my friends and for the second show, I settled into a standing table at the side of the gallery and allowed some other folks to have the front row. The nice couple that joined me at the table danced for the whole set. It was a really great night.
---
I'm back from the eighth annual, Alan Parsons Project FanFest in Bonnots Mill, MO. As was echoed by several others arriving, it's very much like a family reunion, just a family that we got to choose. Coming back to Bonnots feels like coming home.
I drove the new car, with the guitar jammed in the passenger well and seat and all the other equipment in the small trunk. It's a fun drive, most of it on US 50 through Missouri and route W, all of which gets twistier as you get closer.
For a better description of the weekends events, I'd direct you to my good friend Jill's description of events, with pictures here. (caution: sound) Jill and her brother, Blane, and dad, Steve, came up from TX for the second year in a row and I am so grateful. They bring a real enthusiasm and joy that is hard to describe. Check out all of Jill's art - it's amazing. She's also done a great video for my band, Rubber Universe's new CD which should be out shortly.
I won't even begin to describe all the great things that went on, as Jill and others on the roadkill.com list have done better than I could have, but I do have some thank yous:
Thanks to Scott and Sandra for hosting this again: Your hospitality is always appreciated, but as I said above and as you heard from others this weekend, FanFest is like coming home - we got to meet all these friends through our common love for the music, but it's gone on to become a family and a sharing of other parts of our lives. It means so much to see both of you and all of these other friends.
Thank you to Alan Parsons and to Eric Woolfson, who make yourselves available for a generous amount of time to chat by phone with all of us. As your music has meant so much to all of us for so much of our lives, it is really wonderful to be able to talk with you and tell you about how we feel and to learn from you what you are up to and get a peek inside what's behind the music we love so much.
To the tribute band, Projectronics, thank you for letting me be a part and I love making music with all of you - I miss our temporarily missing members this year, but I hope they will be back soon. This year's performance was so much fun.
To the attendees of FanFest, thank you for being our audience for Projectronics, for the wonderful schwagg and for your enduring friendship - seeing all of you every year is what gets me through. It is indeed, the family I choose. I look forward to seeing some of you at rehearsals and recording sessions to come, concerts to come and most of all, FanFests to come. They are family reunions.
I'd also like to thank my co-workers and boss, for allowing me to go to FanFest, although our long and hard fought software project went live over the same weekend after two delays. I owe you guys.
July 2007
Had a very nice birthday weekend: First up, I met friends and birthday boy, Onur, at John D. McGurk's over in Soulard for a celebration after work out in the beautiful beer garden. Lots of good friends and current and former co-workers came out to celebrate.
The next night, Jeff and Deb Bowman and their friend Cor took me out for a fantastic dinner on The Hill in St. Louis at Cunetto House of Pasta. I had the Linguine tutto Mare, as recommended by Jeff, and it was fantastic. Great place and I can't wait to go back. Thank you so much to Jeff and Deb and Cor for a generous birthday dinner!
My birthday itself, I spent working, as our project at work is coming down to the wire and everyone is killing themselves to get it right. I picked up some cleaning supplies and did a little cleaning on the new car.
The next day, my good friend Wally took me out for a great concert with Kenny Loggins. I also got to see my friend Vicci and meet her SO Quentin. Vicci and Wally and I are good old friends from way back in the CompuServe days and I've missed them very much. They both look great and it was so good to get together.
Thanks to all my friends for a great four-day birthday celebration!
---
Mid-life crisis alert! Tuesday before Independence Day, it arrived, shipped from Michigan, my new MX-5 Miata. First, I drove it home to show it off to the neighbors who were gathered for our annual 4th of July block party. The next day, I drove it out to Sorefoot Studios and we replaced the feeble factory horn with a nice compact Italian air horn that sounds like this.
My thanks to my adopted brother Jim for installing the horn, The Miata crowd implores people to get it and not die from invisibility and inaudibility.
The car is insanely fun to drive. It is far more horses per .lb than I've ever had, 50-50 weight ratio and brakes that can do 60-0 in 111 ft. I'm totally in love. The co-workers all love the color, See for yourself! Click on the picture for larger images.
My new bad ride, click for a bigger pic.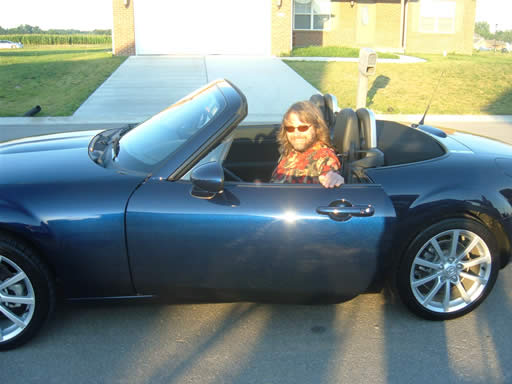 Pulling up at home for the first time in front of the Independence Day block party - Photo by Cathy Reinheimer
---
June 2007
I just got to see the neatest thing! I was out in front of the house, under a somewhat hazy moonlit sky, waiting for a passover of the ISS. Right on time it rose from the NW and passed very close to the setting moon. Cool enough, but 30-45 seconds later another craft appeared and passed through the same track. It finally dawned on me... it was the Shuttle! Because today's planned Shuttle landing was scrubbed, I got to see both; one following the other! Had I planned that a little better, I could have had the handheld VHF/UHF radio ready to call. That was a lot of ham radio operators in orbit that just passed by at 17,000 mph - a missed opportunity.
---
Congrats to Lewis Hamilton of Great Britain, winner of the U.S. Grand Prix. My first Formula 1 race seen - in person! Onur and some of his friends and I drove up to Indy for the race. Very exciting and a lot of fun. My first trip back to the Indianapolis Motor Speedway since the 1985 Indy 500. Thanks to Onur for arranging the tix and for getting me into F1.
May 2007
I got to spend a beautiful day out at Busch Stadium with my good friends and co-workers. Thanks to my employer for the tickets. We had a great day and although I'm a heathen Cubs fan and was sitting in enemy territory, I wore red and cheered on the Cards. And they won.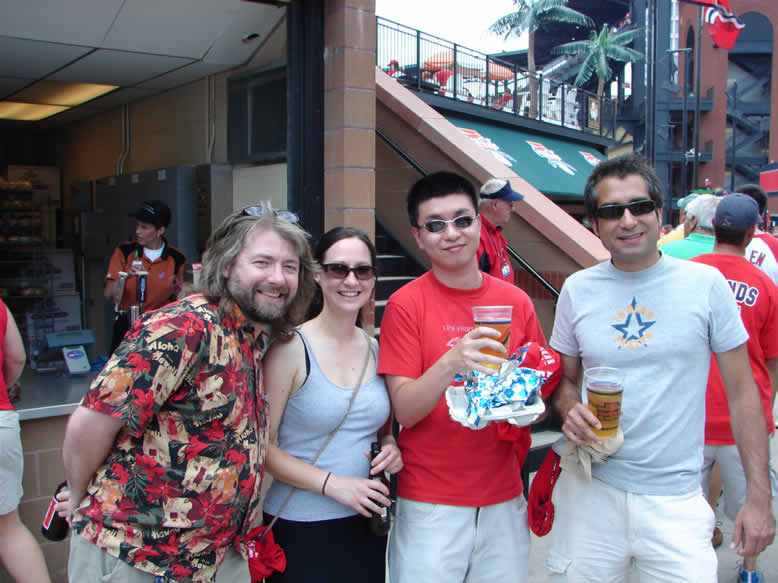 Me, Erina, Jeremy and Onur at Busch Stadium - photo by J.D. Pohlman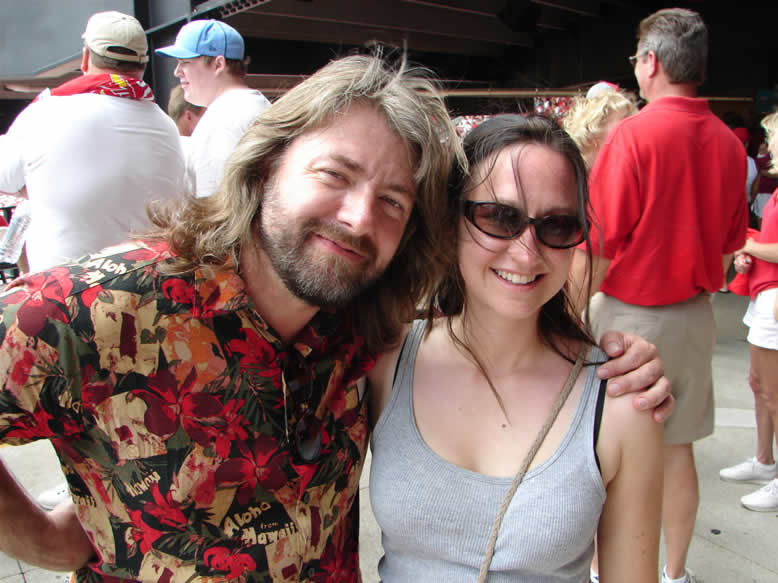 Me and Erina at Busch Stadium - photo by J.D. Pohlman
---
My good friends and co-workers Onur and Jeremy and I had a great Saturday out at Six Flags over St. Louis. I arose around 6 am to get ready and watch the qualifying for the Spanish Grand Prix in Barcelona. (Onur has really gotten me into Formula 1 racing).
After that, I headed over the river and to Onur's place to then head out west to Six Flags. (I worked one special event station up in Minnesota from the ham radio in the car - I get so few chances to play radio these days).
We rode Batman and the Screamin' Eagle and then headed immediately out to co-worker Jeff and his wife, Deb's, place in Eureka, MO, nearly in sight of the amusement park, for lunch.
We had a great lunch on their fantastic back deck, much thanks to Jeff and Deb, (and learned Onur's grilling trick of rubbing half an onion over the grill, right before cooking to reduce sticking and add flavor - and he grilled the rest of the onion for smoke and flavor - brilliant). We also got a tour of Jeff and Deb's great on-line biz, making custom roman shades.
After a great long lunch (thank you Deb and Jeff), we headed back to the park and rode most of the rest of the 'coasters.
We rode Mr. Freeze during the day - shoots you to in 70 mph, in four seconds, via linear mag technology, then at the midpoint of the ride in mid-air the ride pauses at 220 some feet, vertical, to reverse course and go right back home, through all the same loops. VERY intense and so much fun. So much, we did it again at night. Jeremy turned us on to the great turkey legs they serve and we finished the night up on the enormous ferris wheel and one last ride on Mr. Freeze.
Much thanks to Onur and Jeremy and also to Deb and Jeff. I HATE standing in lines for rides, but Onur and Jeremy made it fun through good company and interesting conversation. Deb and Jeff, thanks so much for having us over. It was a great day.
---
It's my favorite day of the year, Derby Day, and I'm as homesick as possible. I met several Louisvillians on my flight last week from Vegas who were so proud of the fact that the Queen of England was going to be there and we chatted about the race.
Congratulations to Street Sense and jockey Calvin Borel and trainer Carl Nafzger. My money was on third-place finisher Curlin and Robbie Albarado, but it was a very exciting and enjoyable race. Wish I was there. I love Derby Day.
April 2007
Just back from four very fun and relaxing days in Las Vegas with good friends and the Alan Parsons Live Project.
Scheduled months in advance, friends Ann and Jim, Gina and David, Sandra and Scott, Roger and Tammy, Ian, Parrish, and Karen all joined me in Vegas for a few days of vacation and a great time with Alan, his band and crew.
We started off with a big dinner at my favorite restaurant in the world, Emeril's Fishhouse. Alan and Lisa joined us, as did Godfrey. The staff at Emeril's were just fantastic, as they have been the three times I'd eaten there before. They handled our large group and served the best food perfectly.
After dinner back at the hotel, I got to spend some nice time with Gregg, Alan's front-of-house sound man, Joe, monitor/stage sound, drummer Steve Murphy and Manny Focarazzo, his keyboard player. I was very grateful for some nice time to chat.
The next day, we fans were invited in for five o'clock sound check, which is just as interesting and educational as it is entertaining. Alan and band were relaxed and in great humor as they worked out the house and monitor sound, set list and other technical details. We got to chat with lead vocalist, P.J. Olsson, whose recent signing with CBS was some good news we got to discuss. I also got to see bassist, John Montagna and for the first time since the summer of 2005, his lovely wife, Jill. It was a happy and fun time for fans who were already excited about the show.
For the show, I sat with Roger and Tammy in the smack center of the front row, tickets we bought the instant they went on sale months earlier. During the show, while singing "Time," P.J. heard the three of us singing "...On and on" as backing vocals and smiled as he pointed the mic down to us for the second verse. It was a great moment. The concert continued on to a very excited crowd for the short duration that casino concerts go - but, the band was so happy, so energized, it was great to be right up close and be able to see just how much fun and how much emotion were going on on-stage.
I want to thank Lisa Parsons for her coordination, so that we could all spend so much time together. I'd like to thank Gina for her help and the people at Emeril's for helping get dinner for such a big group to work so well. It was an unforgettable weekend.
I also want to thank friends Rhonda and Ryan for cat sitting and making this trip possible - you guys are the best.
March 2007
Brad Delp, lead singer for the ubiquitous classic rock band, Boston has died at 55. I am sad to lose one of my inspirations to become a rock vocalist. Perhaps because of their limited output, Boston got overused by American radio stations, but when "More Than a Feeling" became a hit when I was thirteen, it truly changed my view of rock and vocals.
---
Happy birthday, Joan! My mother is yet once again 29.
February 2007
I took a little trip up to join Andy in Champaign to get out and play some pool in the newly non-smoking bars. Friends Chris and Nicole joined us and then Andy took us out to dinner at the fantastic Bacaro Wine Bar and Italian Restaurant. Besides being a very generous gesture, it may have been the best meal I've ever had, paired with some fantastic Italian wines. Thank you Andy!
---
Watching the game whose name we shall not mention, for fear of reprisals from powerful EnnEffEll lawyers (Go Bears) and I am grateful for two great weekends of recording with my band mates here at the home studio. In general, we had a great time and got so much done. I can't wait for the final mixdown and ultimately, the release of our first album.
I apologize to the band and thank them for their patience while I struggled with a phrase I just could not get and got pretty irate with myself. I'll work on the anger management. Thank you to Andy, Gina, David, Mike and Scott for bringing all the goodies. I feel really good about what we got done, especially after I stopped stepping on my crank. Thanks to Andy and Gina - after all the work was done, we had a lot of fun scaring up music and singing along and generally goofing off. It was a lot of fun.
January 2007
Just back from a long overdue APLP show in Sheboygan, WI. After a three year pause, Alan and his band returned to the fantastic Stefanie H. Weill Center for the Performing Arts. Nearly the whole of my band drove up to see the show and it was so nice to see Alan and the boys after so long. After the show, we all went to Trattoria Stefano for some amazing food and drink and had a nice time catching up. Thanks to the folks at Stefano's for putting up with us so late and so graciously. Thanks to Alan and Lisa for chatting with us so late and best of luck on the trip to India! Good luck to PJ and Alan on their Grammy nomination too! I also thank Gina and David for taking me along (and thanks for trusting me with your bad ride) and thank you to Andy for rooming with me at the Inn at Woodlake.
As we did three years ago, Andy and I stopped by the Hop Haven and sampled the fine IPA while Andy made an example of me on the billiard tables before sound check.
As was the case three years ago, the theater was a near sell-out and the crowd really got into it. It was a fantastic show.
December 2006
Happy Holidays all! I have just begun nine nice days off work, just how I like to spend the holidays... I'm gonna head out to the Brooks' for a bit on Xmas day, deliver some gifts, make a little music. It's been SO warm! I just wish for a little of Denver's snow. New Year's Weekend, I'll head to Bonnots for a great second year in a row. Here's to an even better 2007.
---
Andy and Gina came by for a nice weekend to record here at what I'm thinking of calling Nebula Studios, barring any trademark issues. A Nebula is a star nursery in astronomical terms, so from my lips to... whomever's ear. Plus, it ties in nicely to the band's often misunderstood name, Rubber Universe. We recorded vocals for the contribution we are making to an upcoming ELO tribute album and Gina and I share vocals on "Can't Get It Out Of My Head." Thanks to Andy for working as engineer. Thanks also to Andy for correcting several technical problems I was having with the studio in infancy. Andy was also very generous with his Italian fine wines, as usual. A very nice weekend.
---
Spent a nice weekend with the Brooks' out in St. Charles for a little food and fun at the Ameristar. Didn't have much luck, but still had fun.
November 2006
Sorry for the lack of updates... nothing Earth-shattering going on. Had a nice Thanksgiving here at home with the moggies and although I didn't make a turkey, I did grill some nice beef tenderloin out on the grill and feasted on that. A very relaxing four days.
October 2006
Spent a very nice fall day with Gina and David Ronat on the winery trail in eastern Missouri. First we stopped by the Blumenhof Winery in Dutzow for lunch and a nice bottle of Chambourcin. We enjoyed the beautiful fall weather on the deck overlooking the live music and fought off the cute fuzzy little arachnids that seemed very interested in us. Next we drove to Balducci Vineyards in Augusta, MO. We tasted several of their wonderful productions and strolled the beautiful grounds and I took this picture of Gina and David: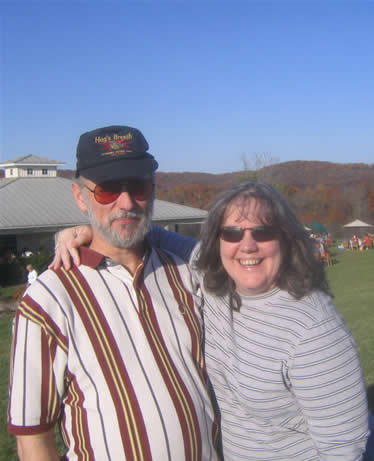 David and Gina at the Balducci Vineyard in Augusta, MO
Then we moved on to our final stop of the day and we enjoyed a bottle of Seyval at the beautiful Montelle Winery, also in Augusta. We watched the setting sun through the beautiful fall trees: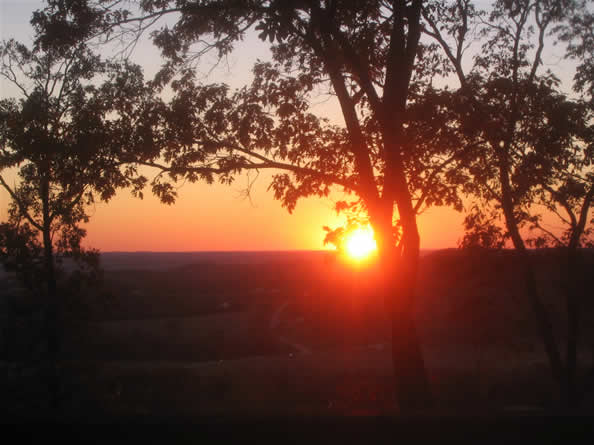 Sunset at Montelle Winery in Augusta, MO
And a pic of me basking in the setting sun: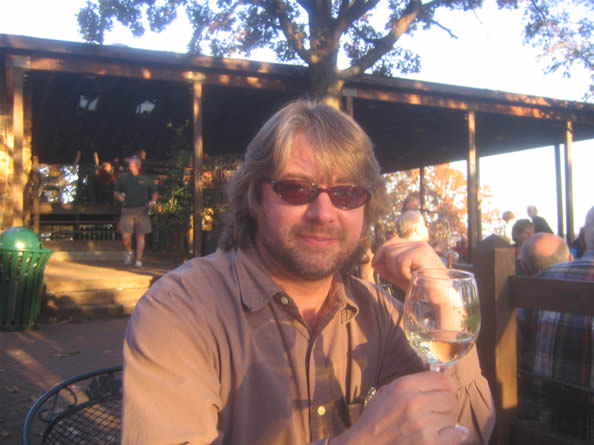 Me at Montelle Winery, photo by Gina
Thanks to David and Gina for a really nice fall day out on the winery trail. It's been a super weekend.
---
Holy crap! My head is still spinning only a couple of hours after my skydive in Vandalia, IL. There is a reason people leap out of perfectly good airplanes - and a reason you never see a video of a frowning skydiver. It is a very happy and intense experience. Several co-workers, some of whom were first-timers, some who'd done it before went out to Archway Skydiving and one by one, we climbed to 10,500' (where it was ten degrees) and stepped out. I enjoyed the view all the way up and didn't even get nervous, until the moment I stepped out on the strut. Moments later I was falling at 120 mph. Big thanks to my great instructor, Ed. I can't wait to do it again.
---
Received a nice package from my friend Tim F-H. who is a VP with Sony BMG in London. The record labels who own the Alan Parsons Project catalogue are releasing re mastered versions of the entire collection next year over the first half of the year. My package contained two copies of "An Introduction to the Alan Parsons Project" 11 songs in 16 minutes! These samples from the re mastered catalogue sound just fantastic and I am forcing them on all of my coworkers and family and such. Thank you Tim and I'll be buying my THIRD copy of some of these albums. I'll have links to the places to buy them when they are released.
---
Had a nice weekend out at Sorefoot, a jam with Sara and David, some golf with Sara's folks and my first birdie in quite some time! Miss you folks and if projects ever slow down, I'll be out more.
September 2006
Had to miss a rehearsal in Bonnots this weekend because the project I've been working non-stop at work is going public tonight. So we'll put a little 'Up All Night' by The Boomtown Rats on the headphones and run through the checklist, which I'm sure is no less complicated than a shuttle launch. Hope this makes the company a bunch of cash and I hope things calm down a bit - I need to see my friends.
---
Spent a nice weekend out at Sorefoot Studios, after watching Amy Brooks' debut in her marching band for the Grandview Eagles football game. The band was great, the football team, not so much. Got to jam with Sara's SO David and the whole gang in the studio. We always have a good time when we get together.
Skydive is rescheduled for later in the month, more on that later.
August 2006
Stoopid weather! No skydive this weekend... It's been desert-like for months, and what day does it rain? So it'll be an exciting weekend of hanging window treatments and unpacking boxes. I may cheat and also hook up some of the electronics necessary for the home studio too.
---
Nearing the end of the big project at work and in kind of a limbo in my personal life that has me a bit confused. We'll see how it works out. In the meantime, I'm looking to schedule a couple of fun things this weekend - Saturday, I intend to revisit skydiving for the first time in 21 years! I'm very excited. I last did this from 10,000' on 10/12/1985, Saturday I'm going to do it from 14,000' wx permitting. I'm a little older and gravity is a little fonder... should be fun.
Then Sunday, my dear friends Ann and Jim have great seats at the new Busch stadium, where the Cubs are playing the locals. Guess who I'm gonna root for?
---
Had a great evening with dear friends Jim and Ann - dinner to celebrate their anniversary and a bit of fun at the Harrah's casino. Brother Jim was in good spirits after recently breaking a toe (ouch!) and Ann dressed all up looking like a million bucks. Thanks to both of them for including me on their celebration night - we all had so much fun. Made just enough throwing bones to pay for a tank of gas back to Freeburg.
---
Back from the *seventh* annual Alan Parsons Project FanFest in Bonnots Mill Missouri. Always the best weekend of the year with lots of great news that might need a bit of time to divulge. Sony/BMG rep, Tim, who is working on re mastered re-releases of the back catalog, came all the way from London to play some samples of what might be coming very soon and we spent hours enthralled by the aural treats he brought. More news on this later. We had a few new guests this year and so happy to have them. Ace and her family came and I'll put a link here soon with pictures and such. We spoke with both Eric Woolfson and Alan and Eric had news that had everyone scrambling to find airfare to London in January. If it happens, it's a dream trip. My thanks to Scott and Sandra for all the effort they put into the FF every year. My thanks to all the attendees who make it all worthwhile. Such great friends and such great times. It went too fast this year and I didn't want to leave. It's nice to be 2.5 hours away rather than seven. Or worse.
July 2006
Not much going on this month but the project at work, but I have a big thank you to co-workers and friends and The Ditty Bops for a spectacularly enjoyable birthday.
I broke away from work and met up with she whom I shall not blog about ('nuff said) and we headed downtown to the Soulard area for a great dinner. Jim and Ann and David and Gina joined us for dinner and the Ditty Bops show afterwards at Mad Art Gallery. Amanda Barrett, of the Ditty Bops said hello to me as I was retrieving tickets for the gang and I slipped her my traditional note requesting "Short Stacks." Later in the show, Amanda wished me Happy Birthday and she and Abby started up "Short Stacks" and sang a really sweet rendition. Our new friends Cindy and Gabriel, who joined us at our tables toasted my birthday and I have to say it was the best ever. I can't thank all of my dear friends enough for joining us. It was a night to remember.
June 2006
Greetings from Freeburg, IL - my new home. The new job is great and we are getting ready to put together a huge new project that will be really lucrative for the company. I'll put some pix up of the new house when I can get the jungle/yard cut and an indoor shot that doesn't contain boxes.
This weekend I'll head to Bonnots Mill for a rehearsal for FanFest and a much welcome get-together with good friends and band mates. Wish I had Monday off - a long weekend would go down nicely right now.
---
Once again, one last entry before I move the computers, again. I have three round trips (unless a fourth becomes necessary) this week to the new house near St. Louis and the road miles are taking their toll. Today was closing. Tomorrow, I drive three screaming moggies over to the new house along with the computers. You'd think they'd be getting used to this by now. Thank you to my Ma for helping with the packing - A big effort and I could not do it without you. Next stop, Freeburg.
For the first time in six years. I'm going to get to live like I don't have to move soon. I've either been waiting for a move or a sell/buy or just otherwise been in temporary housing. It is going to feel great to unpack ALL of it.
---
Went to Clifton's for one last Wednesday night jazz show with my dear friends Greg Walker and Jeanette Kays and their bass player, Sonny Stephens. They gave me a nice send off, calling me up for backing vocals on "Mais Que Nada." I'll miss these dear friends and their music so much. I am so sad to be saying goodbye to all the regulars there. I'll miss all of you, but I'm sure I'll be able to make it back a few times a year.
May 2006
Gina and David Ronat came to town for Memorial Day weekend after a last minute rehearsal cancellation. We didn't get to pack many boxes, but we did do some fun things: A tour of Cave Hill Cemetery - one of my favorite places in the whole world. Burial site of Col. Harland Sanders, my grandfather Harry, and Gen. George Rodgers Clark, founder of the settlement at Corn Island on the Ohio River that eventually became Louisville. Cave Hill is huge, beautifully taken care of and full of history. We also went out to Versailles, KY and the distillery of LaBrot and Graham, distillers of Woodford Reserve, Kentucky Straight Bourbon Whisky. The tour is great, but even better if you don't go on a Sunday, when the samples are cut off via the genius of 19th century temperance laws, causing more than one tourist to comment, "that's stupid." And it is... hey, KY Legislature, fix that.
---
My thanks to Julie, my high school sweetie, for a great dinner at Sapporo. Julie and I have only seen each other a handful of times in the past twenty-five years, but it's always been so fun to get back together socially and catch up. A great sushi dinner and a lot of laughter. Thanks, Jules.
---
I found a new house in Freeburg, IL and I'm now frantically trying to coordinate movers, utilities, appliances, mortgage and other assorted logistics. I am very excited about the new chapter. The new place has a kitchen adequate for my antics in cooking and a basement that can turn into a whole lot of cool things. My sincere thanks to my sanity checker and good friend Ann Brooks and my realtor, Shanna, for taking a whole weekend to help me find a place.
---
I begin a new chapter, again... I have accepted a position with an Internet technology firm in the St. Louis area and I begin next month. I don't really blog about work here, for obvious reasons, but it is a very interesting company with a young, energized workforce and a very cool culture. I'm very excited. I will now be a lot closer to my friends and band mates and Sorefoot Studios and I am so grateful for that. I am glad for my many months of decompression, but I'm looking forward to getting back to work. And I'm looking forward to getting a home where I can unpack all this stuff and set up my ham radio station again. The house hunt begins this weekend!
---
Derby season has been great. All the bad weather held off long enough to get some beautiful days for the Festival and for Derby Day itself. Barbaro smoked the field, (hell, yes I picked it - no miracle, he's undefeated), looking like he might have a shot at the first Triple Crown in a generation.
Thanks to Max and Cile for having me to their Derby Party at Cile's beautiful home in Utica, IN. Greg and Jeanette played the music on the patio with guest bass player, David Crites. Max served fantastic mint juleps that he batched up early in the morning.
April 2006
Thanks to Max, Greg, Jeanette and Jim for inviting and taking me over to the Indiana side of the river for Thunder Over Louisville! Easily the best air show and fireworks display in the country, it kicks off the Derby Festival which leads up to the big race on the first Saturday in May. It's so great to be back in Louisville for the festivities.
Thanks to Cile for inviting all of us over to her beautiful condo and balcony overlooking the Ohio River - the perfect place to watch the show unfold. It was stunning - the fireworks show was easily four times bigger than any I've seen.
---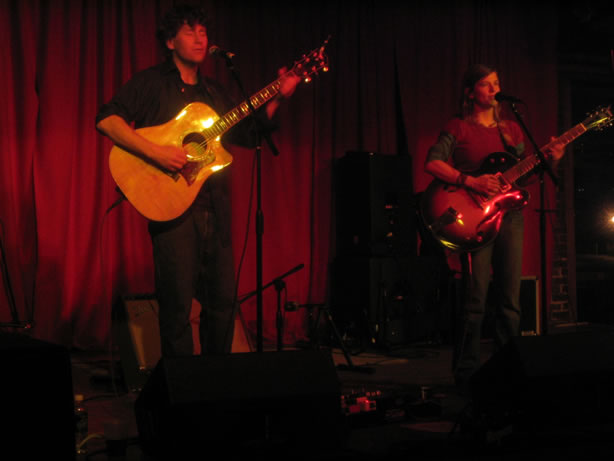 The Weepies, Steve Tannen and Deb Talan at the Mercy Lounge, Nashville, TN
The perfect antidote to a couple of blue days, I drove down to Nashville this afternoon to see in concert, Nettwerk recording artists, Deb Talan and Steve Tannen, known together as The Weepies!
The show was just fantastic - I'm already dreaming up ways to catch another show further down the tour. Before the show, I saw Deb and Steve sitting on some stairs beside the venue before the doors opened. I walked up to them, apologized for intruding and handed them a note requesting "Rocks and Water," a song they composed together that means so much to me. They both greeted me so graciously with warm smiles, as if meeting me was the nicest thing that happened to them all week. We chatted briefly and I left them to wait by the door. A couple of other fans, Sarah and Mark, joined me by the door and ultimately joined me at a small table close to the stage. I was so grateful for Sarah and Mark's company. I thought I was going to have to sit all alone like a dork.
The show began after a nice crowd of perhaps a hundred and fifty filled in the Mercy Lounge bar. Each number was followed by enthusiastic cheers and it seemed to impress Deb and Steve that so few folks could make so much noise.
For the third or fourth song, Steve said, "I met the nicest guy before the show, who came all the way from Louisville and this song is for him. The rest of you can listen to it too, but this is for him." Then they played "Rocks and Water." It goes without saying that I was thrilled.
After the show, Deb and Steve signed my copy of their latest, Say I Am You , inscribing it, "For Robert, Thanks for trekking to Nashville!"
I drove home, smiling ear-to-ear, and pulled in just before 2am.
I hope Deb and Steve have a wonderful tour and much success. I know many, many people are going to discover their wonderful music and spread the word.
---
Spent a nice weekend rehearsing with my band in Bonnots Mill, MO. Travel out was a little scary: the storms that caused tornadoes in Tennessee came up and forced me to pull over twice on the way there. At the rehearsal, things went really well. I think we got some songs to work really well. Thanks to Scott and Sandra for their accommodations at the always beautiful Dauphine Hotel. The new guitar worked well too. It sounds great and is easier to play than my long-serving Yamaha APX-10.
Scott and Sandra have added a few critters to the menagerie: An adorable little cat named Elsie and a three-legged dog named Bozo. Bozo was a very happy dog with all the attention he got from everyone over the weekend. It was really delightful to see him howl with happiness.
I'm glad I left when I did on Sunday, as I came across a horrible rollover accident on US 50 in Union, MO, apparently just after it happened. Thoughtful oncoming drivers warned us of the accident around the curve by flashing their lights. The hours of driving home alone with my thoughts led me into a really down mood, so I had to swim through that. The hours on the road aren't always conducive to happiness.
---
It's been a few nice weeks, first, I drove to Evansville, IN to catch The Ditty Bops and Nickel Creek in concert. It was a very nice show from both bands and I had a great time. Afterwards, I took a few chips from Casino Aztar, rolling some bones.
Then, next morning it was off to St. Louis and Sorefoot Studios for some work on the upcoming album, I made the band and Brooks family some beef stroganoff, which I hope was well received.
Ann Brooks then met with me and some hiring managers, in hopes of getting relocated a little closer to St. Louis and all of my friends and band mates. I'm anxious to get back on track with buying a home in the country where I can play music without being heard and set up a ham radio station.
On return to Louisville, I went to see Walker and Kays along with Sonny Stevens on bass and Hugh Griffin, Jr. on drums at their bi-weekly show at Clifton's. Greg took a look at my new guitar and even played a couple of tunes with it. To celebrate, the abandoned building across the street and down a bit broke into flames and the resulting light show was a nice touch to the last set. Quite a bit of drama.
Up next, I'm off to Bonnots Mill, MO this weekend for rehearsal with the live band and then immediately off to Nashville to see a show with The Weepies, Deb and Steve. They are sweeping the country, don't miss 'em.
March 2006
Thanks to my friend Max, who invited me tonight as he hosted a St. Patrick's get-together at The Jazz Factory for dinner and jazz with good friends Grace, Jim and Jeanette, Lane and Joanne. I had a great time. The Steve Crews Quintet played two smokin' sets, the latter recorded for broadcast on WFPL, one of our three great public radio stations here in Louisville. Joanne recommended the roasted tomato and garlic soup for bread dipping and it was just amazing. I'll be having that again. I'll see all of these nice folks in about two weeks at Clifton's and I can show them the new arch-top guitar that followed me home yesterday from Acoustic Planet. It's about the same color as tonight's soup.
---
An update: Gary is home (and my neighbor two floors down) and resting. I'm sure he is enjoying some sleep after being awakened by nurses and doctors every few moments.
---
My ma's SO, Gary has just had serious heart surgery and after a couple of ups and downs we're still waiting for some clear good news. My thoughts are with them both and Gary's family - My issues don't mean a hill of beans compared to this kind of stress. I know things are going to work out fine, but it would be nice to get past the setbacks. Updates later.
February 2006
Check out the illustrated artwork of my young friend, Jill - another Alan Parsons fan. She often incorporates lyrics and lyrical themes in her work. Here is the latest page, and the two previous pages here and here.
---
Back from Colorado and it was hard to leave. I love the snow and the mountain beauty of the west. It might be the only snow I get to see this winter.
We three got to tour the U.S. Mint in Denver before departing. I've always wanted to tour one of the Mints, having been a U.S. coin collector since the age of ten. Coin making is a remarkably automated process these days, with arrays and arrays of machines, each turning out 12 coins per second! On the way out of the old part of the building, all done in Italian marble and gold leaf, we got to see the original machine gun nest that guarded the front door for over seventy years. Must have been a pretty boring job.
Good bye Colorado. I hope to be back soon. Thank you so much to my dear old neighbors, Kim and Ken. It was a fun trip.
---
Greetings from Keystone, Colorado!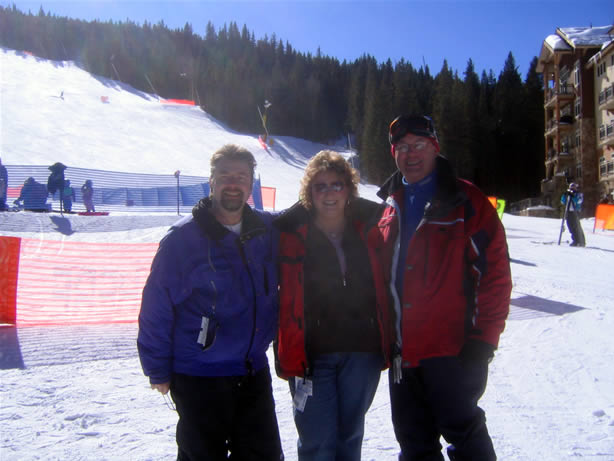 r to l, Ken, Kim and me, base of Dercum Mountain, Keystone, CO
It's been such a wonderful vacation with a couple of days to go. Ken and Kim and I went snowmobiling around the trails of the White River National Forest, in and around Vail today. We did about 70 miles in four nice hours, covering much more of the trail system than we thought possible. We all love the power and excitement of the sleds - it was a memorable day. Skiing, I've had a couple of sets of ill-fitting boots that have caused me some pressure-point issues, but the skiing and weather has been great. Tomorrow is our last day on the mountain and I'm looking forward to making the most of it. Might be awhile before I get to ski again, especially if I go back to school. Last night, we went to the Keystone Lodge for a wine tasting and a long walk around the big, beautiful skating rink. My deepest, most sincere thanks to my old neighbors, Ken and Kim for making this trip possible. It has been so much fun.
---
Met up with a bunch of good friends at the Ameristar in St. Charles, MO for a couple of great APLP shows. I arrived just in time at Lambert to pick up band mate and dear friend, Sara, who flew in for the shows on a whim. Enough of us fans who know each other arrived and took over the entire row right in front of the soundboard. Alan and the band invited us all in for sound check and it was really great to see the process is not that different from our own. Monitor levels, house sound, timings. We even got to hear some new (live) tunes being worked on, such as "Silence and I." Thank you Alan and Lisa for your constant kindness to us fans. Thank you to all of my dear friends for coming to the show and making me feel so happy. I love these get-togethers so much. Thank you Steve, John, Manny, Godfrey and P.J. for all the great music and for the great stories and such. Thanks to Gregg for the house sound. It's always so good to hear and see each of you.
After the show, the next day, I dropped Sara back at Lambert and dashed off to Chicago to join Ken and Kim for our early morning flight to Denver for our ski trip.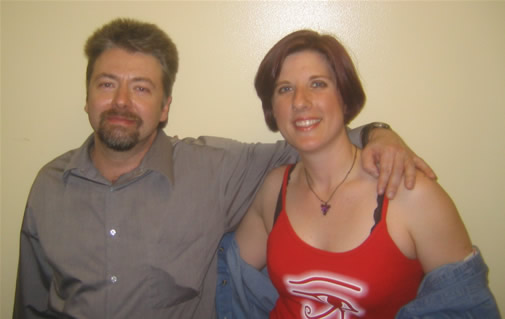 Sara and me backstage, Alan Parsons Live Project, at the Ameristar, St. Charles, MO
January 2006
CBS's Late Late Show host Craig Ferguson dedicated tonight's show to his father, who passed away in Scotland this past weekend. It was a really moving tribute and although I don't know the man or his family, I know his dad would have been proud. I'll be the first to admit that my emotions are just below the surface these days, but it ain't often a talk show moves one to tears. If you missed it, it's a shame. I'll never forget it.
---
Decided to take in some of this global warming and shot a round of golf on Seneca golf course. I hadn't played here since my high school days and it was really nice to be back. It's right up against Bowman Field too, so it made for nice airplane watching. Something (at least painted to appear) military took off and arced across the course. Very neat.
---
Been way under the weather and that's the reason for the low-profile. It's a killer cold and the whole city has it. I'm usually able to resist when exposed but this thing is really virulent. The timing is good, not interfering with NYE in Bonnots or my coming trip to Colorado (if it ever goes away). So, go Bears. Nice to plop down in front of a playoff game and some chicken soup.
---
Happy New Year - Had a really nice time with my band mates and friends in Bonnots Mill at the warm and inviting Dauphine Hotel. Thank you Sandra and Scott for your hospitality and to my dear friends. We played some tunes and had many laughs and celebrated the end of 2005. I'll see most, if not all of these nice folks at the Alan Parsons Live Project show next month in St. Charles, MO. Then I'm off to Colorado for a week of skiing with my dear old neighbors, Kim and Ken.
December 2005
Happy New Year to all of you. I am headed off in the morning to Bonnots Mill to be with my band mates and good friends, all of whom have made my year survivable.
It's no secret that 2005 was a train wreck of epic proportions and I'm not sorry to see it go. I will be celebrating the coming of 2006 and the hope of better things to come in a big way and with those who are dearest to me.
In addition to my own personal grief, so many of my friends lost people dear to them, family and friends. My heart goes out to them and I hope 2006 is good to them as well.
I hope to sit down this weekend with some of my band mates, many of whom are educated beyond belief, optic physicists, biology professors, and on and on. I want to bend their ears further about some options I've considered. I know I'll be able to glean good advice.
With all the bad that did happen this year, it was a year of some sterling moments: My discovery of and attending five concerts with The Ditty Bops. Amanda and Abby are so sweet and their music is wonderful, even more so live. Likewise, my two shows with Alan Parsons Live Project and especially getting to go out to Alan and Lisa's new place in California this summer. I'm already set up for a new concert with APLP in St. Charles, MO in February. I then get to take a nice ski trip out to Keystone in Colorado with my old neighbors and dear friends, Kim and Ken. It'll be so much fun: getting to ski, which I love, and getting to see my dear old friends.
I think 2006 will be better - I'm close to pulling the trigger on getting some more education - I'm leaning toward health care, aviation and teaching, or a combination thereof. I'm still in info gathering phase.
---
I got to spend a nice evening with Geoffrey eating BBQ chicken and continuing to watch the HBO series, "From the Earth to the Moon." Geoffrey and I are huge space geeks and it's been fun to watch the series as it faithfully recounts the events and personalities of the Apollo space missions.
---
Happy Xmas all at 3:00am on Xmas morning. My thanks to Greg Walker for his wonderful Xmas Eve party. It was so nice to see all of my new friends from Clifton's and to eat and drink such nice things. Lane Long's home-smoked salmon and authentic Chicago-style Italian beef were a big hit - yummy.
Later today, after a long winter's nap, I'll join Ma and Gary, Geoffrey and Anne for some eating and presents.
Next up, I run over to Bonnots Mill, MO to hang out with my dear friends and band mates for New Year's. It will be nice to join everyone for a change, rather than just get a phone call.
---
My thanks to Dad and ma Dyann (Santa South) - I received an iPod! I immediately loaded it with eight days of music! This will be so nice to have in the car, the only place I can sing without annoying people. A very nice gift and I am very grateful. I've spun it on shuffle several times and it's just so much fun.
Coming up, a visit to my dear friends in MO for NYE.
November 2005
One of the things I was going to miss the most about A2, was a beverage that I first tried there and never saw anywhere else: Faygo's sparkling grapefruit water. It's just carbonated water with no sweetness and a nice touch of grapefruit flavor. It's insanely refreshing and I thought I'd never see it again. These are the days of tiny spoonfuls of happiness coming in sparse and hard-fought small miracles, so it was with no small measure of delight, I discovered that the Meijer's stores here in Louisville carry it too! I grabbed a bunch, as the stores are kinda out of the city.
---
Happy Thanksgiving everyone. I'm grateful to only have to walk down two flights of stairs for travel. No delays, no security, no weather, just food. I'm conflicted about the holidays. I'm trying to embrace the season, but my heart just isn't in it. Still, I'll try. I'm going to try to smile through the wind and cold and see where the days lead.
---
A fun evening with Geoffrey, neighbor Shannon, and Geoff's new telescope, if not a little cold. It's suddenly in the high teens here and although clear, that's chilly! We saw the Trapezium in Orion, Mars, countless beautiful views of the moon and after waiting patiently for it to rise, Saturn. To see these objects live is always a thrill and worth the chill. Now to get a bigger light bucket and get out in the hinter lands...
---
It took two years to get it long enough, but many of you know I've been intending to donate my hair to Locks of Love, an organization that makes wigs for children who've suffered long-term medical hair loss. Today was the day. Here's before, here's during, here's after and here are the locks to be sent. Maybe I'll do it again in another two years. Thanks to Shannon Myers for wielding the blades and her salon, The Place To Go.
---
Well, just back from the fabulous Nickel Creek concert and my thanks to brother Geoffrey for joining me at the beautiful Brown Theatre. Feeling more than a little blue and I attribute it to a night full of bad dreams and it's taking longer than I feel is right to get past the events of the summer - I'd sure like to stop it being the first thing I think of when I awake and the last thing I think of when I go to sleep. Also, I've been looking forward so much to tonight's concert for quite awhile and now that it's over, I'm feeling a bit of a letdown.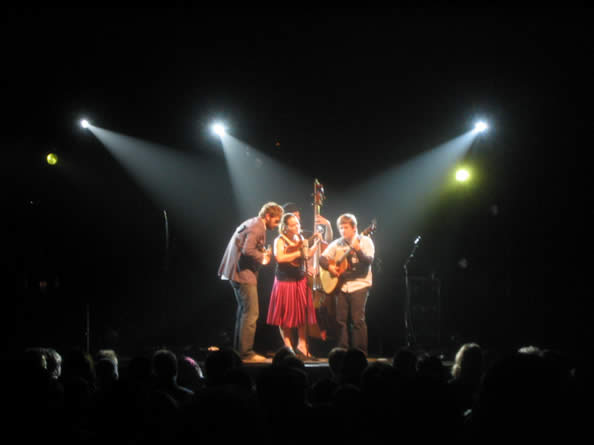 Nickel Creek, Chris, Sara and Sean at the Brown Theatre
---
Well, I've been searching high and low through the slowly diminishing stacks of boxes for a few things, but tonight, I found the camera charger, so pictures will hopefully resume here soon. I've spent a couple of nice fall days out at Churchill Downs, getting reunited with the place where I learned how to handicap Thoroughbred Horse racing. A lot has changed there over the years, but I found myself looking up at the twin spires and remembering old times. Made a couple of bucks too.
Next up, Walker and Kays at Clifton's tomorrow and the next day, another Nickel Creek concert. My first haircut in two years on Friday (pictures to come). Then on Saturday, Churchill Downs is honoring Pat Day. Might just have to get out there for that.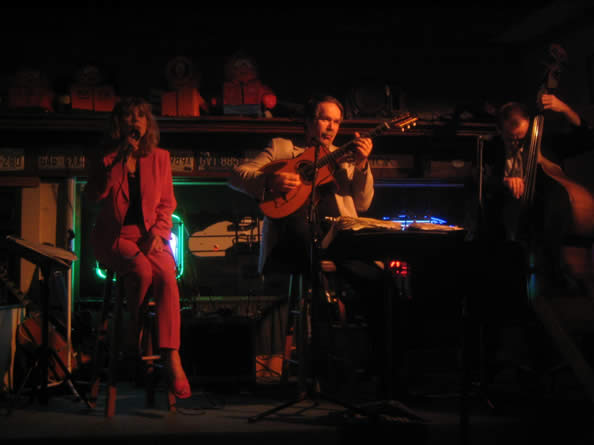 Jeanette Kays, Greg Walker and Sonny Stephens at Clifton's
October 2005
"Due to a clerical error..." Another musician I love once began his response that way...
Due to my own inability to read a calendar (I have a really nice one now, more later) I didn't realize the Ditty Bops/Nickel Creek concert in St. Louis, that my dear friends Gina and David Ronat, had the foresight months ago to buy and include me on, was TUESDAY not Wednesday. I had originally planned to just stay in eastern or central MO after the show through the weekend, because my own band is rehearsing in Bonnots Mill this weekend, but due to the error and my own insanity, I decided to view 19,000 some odd white lines, two per second, twice, once for the show and once for the rehearsal. Yes, I am insane.
I arrived Tuesday afternoon, just as David returned home from work and we went for a fabulous meal at Zia's on The Hill in St. Louis. I had the seafood ravioli in heavy garlic cream sauce and yes, it was good, mmmmm. We shared a bottle of Chianti classico and then headed over to the Pageant for the show.
The Pageant is an interesting venue in an interesting neighborhood. (not meant as sarcastic). We explored the place, checked out the acoustic tiles in the corners (our drummer, Scott, had remarked that he found the sound here a little weird in the past - in the end, I found it pretty good). We found both merch tables but no sign of either artist, so we settled in to our great seats in row 1 of the balcony at stage left. Several folks in the area asked who the opening act was, as it wasn't printed on the tickets, so I told them and tried to explain what the act was like - it's not easily described in few words, so it's a fun conversation starter.
The Ditty Bops came on and seemed to instantly woo the crowd. I've always found their live show compelling, but I was wary after my experience in Chicago when the 'Bops opened for Tori Amos. The fans there weren't that interested in the opening acts and it was quite noisy. After the third song, "Sister Kate," the crowd was enthusiastically cheering. (How can ya not like 'Sister Kate?')
The show was amazing and after the set, between acts, David and I went to the merch table and I introduced David to Abby and Amanda. Before I could, they recognized me after seven months since I last saw them in Chicago! This was just what the ego needed, but it was so wonderful to see them again. David bought and had autographed, a CD and I bought one of their new calendars and they so kindly autographed it as well.
Nickel Creek's set blew us away. This young group has chops out the ass and every component needed to entertain a live audience: pace, sound, virtuosity, wit, chemistry, charisma - you name it. They are going to be stars and they're 20-ish! Go see them! If you hate it, I'll buy your ticket. Despite knowing only about 10% of Nickel Creek's songs, I wasn't bored for even a second. David remarked during the show just how incredibly well the voices matched together, knowing the relations of the singers (sister/brother/cousin). It was a match I haven't heard live since Clannad.
I rediscovered Nickel Creek and their new album the day after my recent breakup. The songs, 'Somebody More Like You' and the title track, 'Why Should the Fire Die?' pull every string in my heart. Hearing the songs live was very emotional.
I'd also like to thank Greg Rutledge, who plays piano for the Ditty Bops. He asked on the bulletin board for fans from the bulletin board to look him up, so I asked a member of the entourage to chase him down backstage. He came out and graciously chatted with us for a long time. I have seen several shows with the 'Bops, but Greg has always been back in LA. I finally got to see him and he is talented and delightfully friendly. He explained that, as sort of an outsider, he sometimes gets inside info that he can't divulge, but was able to tell me that a new album, with Mitchell Froom in tow, is in the works and scheduled for the spring. Great news.
David and I left, feeling quite elevated - it was a really fun evening. Despite having to get up early, David gave me a driving tour of all the area around the Pageant, which looks like a *really* fun place to hang out. Pub crawl to follow soon.
David is also taking guitar lessons, meaning it won't be long at all that he'll be better than me and can take my place in the band. I asked about Grant's farm and the place where A-B raises the Clydesdales (I saw one, even in the darkness). I got to see these places as well. My thanks to David for being a great host and joining me at what may be one of the greatest concerts I've ever attended. I only regret that Gina and Jim could not be there. It was a fine evening.
I woke at the crack of noon and hauled ass back to Louisville through the beautiful foliage of southern Indiana (fall hasn't quite reached the south of Illinois). I worked stations on the mobile rig (it's all I've got radio-wise anymore) from the former Yugoslavia (and the Azores on the way there) and Iceland . The latter was a new country for me - always fun and exciting for radio geeks.
I'm insane, so I'll be making the same trip, and then some, for rehearsal this weekend... I need that LearJet. And some sleep.
Back late Sunday/Early Monday...
---
I have to run, before I compose my long review of the past 24 hours, but I just finished listening to 'Why Should The Fire Die?' by Nickel Creek, with which they closed their amazing show in St. Louis last night. It says everything my heart is feeling. More later...
---
I'm on my way to St. Louis for a Ditty Bops/Nickel Creek concert at the Pageant with David Ronat and, hopefully, Jim Brooks, who also digs my 'Bops. Then back here for 36 hours and right back to central MO for band rehearsal. I can see white lines passing already. More after the weekend.
---
It was twenty years ago today, that I met a lovely young client named Lisa and fell in love. We exchanged a few nice e-mails today, remembering older days. How things change...
---
I'm moved in, but probably won't be done unpacking for several months. I've got towers and towers of boxes and the cats jump from stack to stack like frogs between lilly pads. The kitchen is semi-functional: When I cook something that needs draining, boom! No colander! Can't find the damned coffee grinder either... haven't had a home-brewed cuppa joe since. Sorry for the dearth of photos, too. The camera battery charger is packed and damned if I know where.
I haven't yet had much time to explore... Been unpacking boxes and making paths through the stacks mostly. A sudden chill is in the air too. I want to take the bike out in Cherokee Park. Hopefully, there'll be a late burst of nice weather when I get back from rehearsal.
Thanks to my movers at Skipworth Vanlines, Rupert, Michael and Bob. The turns and stairs on the Louisville end made it quite an ordeal and it took two days, but the crew did a great job. I have a 2m beam antenna that is not so happy about the move, but it seems to be the only casualty.
---
One last post from A2 before I break down the computers. It's a very emotional day and very, very hard. A long drive ahead with the cats to talk to. Next stop, Louisville.
---
Leaving for a week or so... I'm off to St. Louis to join up with a big gang of folks for a trip to Vegas to see Alan Parsons Live Project play this weekend. It can't help but be fun. Next, I'll cruise over to Louisville for a few days and on the following Friday I sign the lease on the new place and return to A2 in a van to gather up my temporary stuff and move to Louisville. I suspect the next entry here will be a pic or two from Vegas and will be posted from Louisville after they get the broadband hooked up. Then begins the adventure of moving three storage units from Chicago to the new place. See you all then.
---
Rehearsal was great, travel not so much. I really need to win the Big Game so I can lease that LearJet. Every time I think it might be fun to be an over-the-road trucker with satellite radio, I take one of these killer trips and disabuse myself of the notion right away. The white-line fever is getting a bit old. I did have a few nice QSOs on the ham radio in the car, including one with a ham up in Fairbanks, Alaska that ticked off quite a few miles, so that was cool.
September 2005
Off for a few days of rehearsal in Bonnots Mill, MO with my good friends and band mates. Back soon!
---
JetBlue flight 292 is down safe at LAX after a televised emergency landing. Some of the most exciting live television I've ever seen. That strut is dead m*********ing center of the runway too. Nice job to the JetBlue crew. Also nice to hear the commentary of Capt. Al C. Haynes, who saved so many lives in the crash of United 232 at Sioux City. One of my former co-workers was on that plane and I got to meet her because of Capt. Haynes and the three others in the cockpit who used the throttles to steer the crippled jet back to an airport.
---
I met the nicest couple at the pub tonight, John and Nancy. I offered to share my table, as I was hogging the place. In a month, when John retires, he and Nancy are going to take their 31-foot sailboat from Chesapeake Bay and sail down to Bermuda and then Tortola. And from there, who knows where... I can't tell you how appealing this is to me. To just sail away. Nice. I wish them both the best of luck and I hope I run into them again someday - preferably when they walk over to my slip and ask for a cup of sugar.
---
I've landed the apartment in Cherokee Park, Louisville, that I wanted, but I can't move in until next month. So! Gather it all up again and move it again! It's a great location and I hope I'll get the chance to catch up with lots of friends in Louisville. A few bike rides around Cherokee Park will be nice as well.
Up next are rehearsal in Bonnots Mill and a trip to Vegas to see APLP with a bunch of friends/fans. After Vegas, I'll move as soon as the place is ready. With that it'll be goodbye to A2 and Emily, maybe for forever.
---
Update: Dad and Dyann report back from Mandeville that although they have some tree damage, gutters and shingles, they are largely unscathed and I'm grateful for the news. Thank you to all who asked.
---
On my way home from the fantastic Grizzly Peak Brewing Co. - the strangest thing happened to me... I spotted an unusual bird on a building... It was a cockatiel, much like the one that Gina and David have that they call, "Clancy." I held out a finger and called to it from across the street and it took off, flew huge swooping circles to check me out and settled on my finger. So, now, I'm walking down the street with a cockatiel on my finger. I didn't know what to do! I called Gina to ask her for advice as the bird checked out the chain and charm I got from the Elsbrees and Schaffers at fanfest. A lady saw me walking down the street with a bird and offered to call the Humane Society - they didn't answer, this being the holiday weekend. I began picturing putting him in my car, driving over to the store and getting a cage and food and wondering how the three moggies would react to having a bird.
I saw folks hanging out at Washtenaw Dairy eating ice cream, so I asked them if they recognized the bird or knew anyone with birds. He then jumped from my finger to the cone a man sitting there was eating. The man was a real good sport about this and I retrieved the bird. The crowd pointed me to a party that was happening down the street a bit, so I headed over there. There I found a real nice crowd of twenty-somethings, many of whom were current or former bird owners and the bird jumped right from my finger to a beer one young lady was holding and had a big drink. SHE was a real good sport about this and went inside to get the bird some water. The attendees agreed to take the bird and I thanked them - they were gonna put up flyers to see if the bird's owners were around - the last thing I need right now in life is another creature to care for, but I'm sad. He was a sweet bird and if I could keep the cats from making dinner out of him, I'd have been glad to have him.
August 2005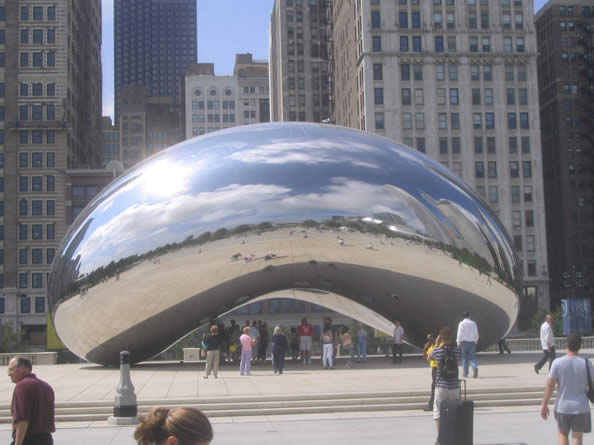 The Bean, "Cloudgate," after polishing.
Well, I'm sorry for the lack of updates... I've been on the road, visiting family and friends in my time of need. Emily has decided that we should part ways and so, one door closes and another door opens. I have been passing in and out of emotions ranging from shock, pain, anger and sadness. It will take a long time to heal.
I need to thank family and friends, without whom I could not have dealt with all of this pain. My mother Joan and her SO, Gary, and Geoff: All of whom will again be neighbors as I have decided to relocate back to Louisville. Thank you too to Louisville friends Greg, Jeanette and Sonny. I hope I'll get to sing with you and hear your beautiful music a lot more often now that I'll be back in town. Friends Gary and Jill will also be welcome additions back to my life.
After seeing family for a couple of days, I hit the road-just in time for another heat wave in the bad ride with no A/C-this will be the summer of sweat. A few nice days with Jim and Ann Brooks, their daughter Amy, David and Gina Ronat at Sorefoot Studios just outside of St. Louis. Then on to Bonnots Mill with Scott and Sandra, stopping off at the lovely Wenwood Farms Winery in Mt. Sterling, MO.
Scott flew right off to Sacramento, CA for an APLP live show with John Finney and Sandra took good care of me as I took in the relaxation of the Dauphine Hotel (all to myself!) and the cadre of cats who hang around the place. My thanks to Sandra for the generous use of her laptop to satisfy my net addiction...
Then, in a surprise departure in itinerary, I flew out to Burbank to join up with Scott, Sandra and John and we went to Alan and Lisa's new place in the hills above Santa Barbara. A jam session that followed the party will easily go down as a top-ten moment in my life. SO, as life throws the lemons, I got to make a bit of lemonade. Pretty tasty stuff. Thank you to Alan and Lisa for a weekend of a lifetime. And thank you to John and Jill. John plays bass in Alan's band and I finally got to meet John's new wife, Jill. A real pleasure. And thank you to Alan's drummer, Steve, for picking the songs and playing them so well. It was an honor.
On the way out of Burbank, I called my step-ma, Dyann, as Hurricane Katrina bared down and found them evacuating to near Dallas. They are ok as far as I know, but I've not been successful calling them back and I don't know how their house fared. I'm concerned and I'll post updates as I learn them.
My flight from California put me back in St. Louis quite late and Gina and David took me in and gave me such nice hospitality so late on a skool nite.
The next day, I took off for Andy's place in Champaign and after fending well for myself at billiards for the first several games, the wheels came off and he soundly kicked my ass, as usual. A killer sushi dinner followed. Thank you Andy, not only for putting me up again for a night, but for offering to take me and the cats in. If I wasn't going to head to Louisville to be with family, I'd have taken you up on the offer. You are a great friend.
The next two days and last two on the road put me back in Chicago with Jim and Laura. To their kids, Benjamin and Andi, I'm Uncle Robert and it was great to see them as well. For my birthday, Jim and Laura took me to the first pop show at amazing Pritzker Pavilion in Millennium Park for a show with my beloved Ditty Bops and Tori Amos. I hope this wider exposure to Tori's audience results in much more success for the Bops, but I hope it doesn't end the nice small shows, where I can practically sit on Amanda's feet. :)
Thank you to former co-workers Angelica and Raishon, who came out and joined me for lunch. It was so nice to see you both.
I'd also like to thank my ex-wife, Jane, who met me in Millennium Park and chatted with me and we caught up. She was a great listener and I thank her for that. It was good to talk and see each other without too much hurting. I knew we'd one day be able to be friends.
September brought the end of my road trip, which felt like six months. I've never been out on the road that long, I guess, ever. It was so good to be reunited with my cats.
And so, brings the next chapter. I return next week to Louisville to see apartments and hopefully find a place in Cherokee Park near family and friends and the wonderful parks nearby. Riding a bike in Cherokee Park is very appealing, as is having my grill deployed over at my mother's house for some nice cookouts. Louisville has so much to offer and I know that once the pain fades away, I'll be happy again with my life and things will get better. I hope to start a small business helping people with their home and small office PCs. I'll also be much closer to the friends and bandmates who have been such good support in such trying times. More to come.
July 2005
Well, that was interesting...
After years of hemming and hawing, I quit my job and packed up Chez Chaos, put it into storage, and moved to Ann Arbor to be with Emily. Thus, the long lack of updates. Before I go into the many fun things I did get to do over the last several months, I need to thank some people publicly, without whose help I could never have done the move. My thanks to Kurt, for pitching in with his truck and putting in far more manual effort than was asked for. To Jeff and Sherry: Thank you so much - Jeff trucked load after load to storage in his truck, even volunteering extra time. Sherry and Kyle brought dinner and Sherry worked hard cleaning and organizing - thank you. My dear neighbors, Ken and Kim, who will be missed very much, loaned me their SUV, which saved me HOURS and many trips in my somewhat less functional vehicle. I am indebted to Kim for bringing in my buyer, 12 hours before the house went on the market. Lastly, I am forever in debt to Emily's family, Heather, Dale and Pat for their endless efforts at sprucing up the place and making it so marketable, it needed no marketing. Especially my thanks to Pat for her absolutely Herculean efforts at packing, organizing and cleaning the place for the new occupants. I'd never have finished without her help (Indeed, I left just minutes before the new owners arrived from the closing, drenched in sweat, desperately trying to get the last bit of stuff from the 'fridge stowed and out of there). Thank goodness it's over and now to find a new house near A2 with a bit of land. Watch this space.
March 2005
Attended a surprise concert at Martyr's with my new infatuation, The Ditty Bops. I thought I was going to have to break down and trek out to California, where they play more often. I'd only seen them on late night TV appearances, so it was really great to see them in such a small club from right up front. I'm really looking forward to more shows. Abby and Amanda, come back soon!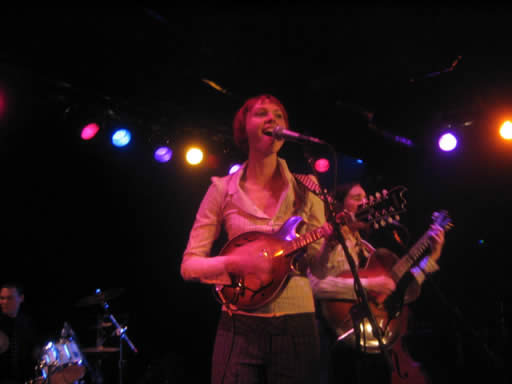 The Ditty Bops, Amanda and Abby at Martyr's
---
Originally planned as a vacation somewhere warm and sandy, I took a week off to decompress and Emily came to town and we finally got down on hands and knees and replaced the dining room floor with laminate. Not rocket science by any means and it certainly got easier as it went along through experience gained, but hard work. The creaky body and especially knees are not quite used to that kind of task. Looks nice though - now, just to order the trim and tap it in. The warm and sandy stuff will have to wait a couple of months. Writing this on the train home and looking forward to a nice relaxing weekend, hopefully with some time to play ham radio here and there between house chores. I'd also like to experiment cooking a little this weekend. Perhaps, scare up some recipes on the net and see if I can't expand the repertoire.
---
On the radio front, on a recent trip to A2 to see Emily I worked a station all the way down in the Cook Islands in the South Pacific from the mobile station on I-94. That is quite a thrill and a pretty good haul from a car with 100 watts.
February 2005
Sorry, got a bit neglectful of the site again through the forces of apathy and free time choices that should include practicing my music and improving the house, but too often involve getting a glassy stare and a vegetative state. I did get down to Champaign for a rehearsal with the rest of the band and had another nice weekend among friends and band mates. I'm pretty happy with the progress, but I'd be a whole lot happier if it wasn't so damn hard to get together. All of the southern contingent made it a whole lot easier by coming all the way up to Andy's and for that, I'm grateful.
---
Emily came to town again this year for the Chicago Auto Show and I enjoyed it, more for the company than the show I guess - although bigger than ever, I suppose the fact that a car is economically further than ever away takes somewhat away from the shopping/browsing experience. The ever weaker dollar means that the imports I want in my garage are really spendy. I remain enamored of the Volvo lineup, especially with the six-speed manual now available. But the Scion xB and tC are probably more likely candidates in the current economic climate.
January 2005
Happy New Year and welcome to another episode of the World's Slowest Bl*g! Sorry, I've just been killer busy both at work and at home. I made a couple of nice weekend trips to Ann Arbor, where we met shawnj at Ann Arbor Brewing for a quick (and small) MoFi/MeFi meetup. Then Emily and I ran into Detroit for a holiday show with Barenaked Ladies. Fantastic concert and funny too.
I had no days off left after the trip to Italy, so the holidays really didn't feel like holidays. Ken and Kim took good care of me for Xmas and Emily came over for NYE and we had a nice celebration together.
After doing a bunch of research on-line, I decided to build a new computer to replace my aging Dell. Building the computer was pretty easy and fun too. I ordered all the parts from Newegg.com and could not have been happier with my order. I made about three mistakes building, all non-fatal but, it's heart-stopping when you hit the power switch and nothing happens. At least it didn't explode or leak smoke. After correcting my errors, it came right up and now I have a pretty smokin' little machine. I then networked the Dell in and after a little firewall twiddling, I got the two to play nice and even got my work laptop in on the fun wirelessly - sweet! Net access from anywhere in the house, MP3 access too - very cool. Then, just as I was starting to enjoy it all, the Dell corrupted Win 98 on bootup and I spent nine straight hours and an uncountable number of reboots in and out of safe mode trying to get the system to boot up again, or at least give me access to the data! I unhinged the sys and exec files, the drivers, tried a million things with no success. Just as I was about to give up and pull the drives and stick 'em in the new machine to at least try to extract the data, at 2:37 in the morning, I booted into safe mode one last time and tried uninstalling some software that I never use - it did the trick - it booted! I then still had to download and reload the video driver so I could see more than three icons on the screen, but I was just so happy to have my little geriatric computer back on the network and be able to go to sleep. All's well that ends. My thanks to brother Geoffrey for being a calm voice in the face of frenetic total panic.
Next up, my radio club's annual Winter Hamfest, where we'll see how many people we can get to come after Saturday's predicted foot of snow. Then, a weekend rehearsal with my band, where I'll finally get a crack at the songs we're doing next August at FanFest. It'll be so nice to spend some time with friends these two weekends. Pictures to come. Now to spend the next 12 hours shoveling the driveway. Before and After the storm.
December 2004
Please consider helping out the American Red Cross via this really easy link at Amazon. Only money and effort can help prevent a compounding of the tragic tsunami disaster across southeast Asia and eastern Africa from disease, lack of water and starvation. The scale is vast, the geographic area affected is boggling and the need is desperate - please help.
---
Another nice weekend in Ann Arbor - Emily took me to The Ark for a concert with Juliana Hatfield, who put on a really nice show with just a Gibson SG electric guitar and a pair of effects pedals and her beautiful voice. It was really great show. She seems very shy, yet seems to love performing. I think she'd get a snowball going if she got out and played for more small shows like this one. We were in the 2nd row after hanging out at Rush Street next door and trying out a flight of champagne and tour of Tuscany wines. It was a great evening - and a nice weekend.
I hit it back, driving through constant drizzle and ever threatening winter weather but worked a few 10m stations in Panama, Mexico and Brazil for the ARRL 10m contest. A little tough to work 10m with solar conditions as low as they are, but active enough for fun.
November 2004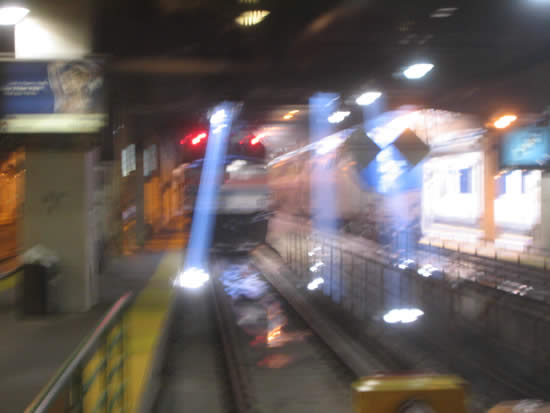 Chicago Union Station Thanksgiving Day 2004
A very nice Thanksgiving: Emily joined me along with, brother Geoffrey and his SO, Anne, for turkey dinner here at Casa de Chaos. We used Alton Brown's recipe, cooking the turkey at 500F for 30 minutes and then two hours at 350F. Worked like a charm. Your chef here. The other chef here. After a day of work with the seven other people who had to work Friday in Chicago, Emily and I turned Geoffrey and Anne loose in Chicago and headed to Kalamazoo for a second turkey dinner. My thanks to Emily's parents Pat and Dale for dinner and the play at Kalamazoo's New Vic Theatre. It certainly put me in the holiday mood.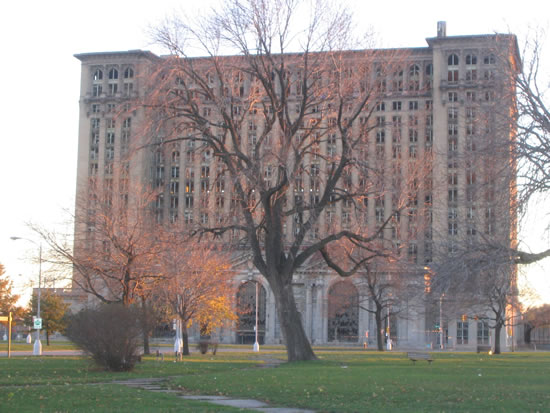 Michigan Central Station 1913-1987
Just back from a nice weekend in Ann Arbor with Emily. I got into town after dodging deer carcasses scattered across I-94 all the way across Indiana and Michigan. I no longer hunt, but something needs to thin the herd. I saw no fewer than [the results of] twenty hits in 270 miles. It was a tense drive as I scanned the darkness waiting for something to dart out and take out my bad ride. I arrived and joined Marian and Jon for the tail-end of their housewarming party at midnight. It was quite a relief to be at the end of my drive. [update: I read that as the season opens today, in MI alone, 700,000 hunters are expected to take 500,000 deer. Wow].
Emily and I spent Saturday touring the Henry Ford museum and it was quite enjoyable and fascinating.
Congratulations to Jen and Jason on the arrival of their son, Jackson - 8#9, 21" and rumored to have a spectacular middle name. The news arrived early Sunday before I reluctantly headed back home.
October 2004
Emily and I are back from a week in Florence, Italy. We joined up with a bunch of friends from Roadkill, essentially the same group of intrepid travelers I went to Barcelona with in 2000, but for the pleasant additions of Emily, and Gina's husband, David. We also caught up for a date with the Alan Parsons Live Project tour in Florence.
Emily and I arrived first and stayed for a couple of days at the Hotel Jane in the far eastern section of the central city. The hotel was very nice, with a breakfast served each morning and a pleasant staff. We walked and walked through this beautiful city and were just visually overwhelmed with all of the beautiful antiquities and architecture.
Mornings, I'm a little foggy, so the fact that Florence has a little coffee bar on virtually every corner is a very good thing. A few espressos and chocolate croissants and I'm ready to tackle the never-ending list of museums, churches and public art. Florence slows at mid-day for a very civilized tradition of nice big leisurely lunch before returning to work for the afternoon.
After a couple of days sightseeing on our own, the rest of the group, Andy, Chris, Scott, Sandra, David and Gina, caught up with us. Scott and Sandra Holder were fantastic tour guides, having visited Florence before.
I loved seeing the city my grandmother, Mary, loved so much from her visit in 1964. I also really enjoyed seeing more about Galileo and the major artists of the Renaissance. Food and wine? Only gravy.
We caught up with the Alan Parsons Live Project tour in Florence and met the Italian fans and made a few new friends.
Here are my pictures from Florence.
And some galleries, movies, and slide shows from my friends and fellow travelers:
---
Just back from another Alan Parsons show - this time at the Detroit Opera House, with an orchestra in a double-billed show with Dennis DeYoung. After the show, a gang of fans (Gina, David, Scott, Sandra and Beth Ann) and band headed over to Pegasus for a fantastic dinner. I've always loved Detroit's Greektown restaurants, from the days when my late friend, Harper Duerr, lived there. Very nice time. The band left the next day for several dates in Europe and we're going to join them for a show in Florence, Italy, in a couple of weeks.
After the Detroit show, I returned Scott and Sandra to the Detroit Metro Airport. Poor Emily had to work on short sleep and I was able, thankfully, to crash for a couple of more hours before spending a great day with Gina and David exploring SE Michigan's wineries and small towns near Ann Arbor. I'm still shopping the surrounding rural areas for a place to settle and it was nice to have some time to look. After exploring all day, we came back to Emily's and we made up an Italian dinner, opened some Michigan wines and watched travel videos in preparation for the trip to Italy.
Saturday, on my way home, we stopped off near Kalamazoo to look at Emily's sister, Heather's, possible new homestead near Gobles, MI. A beautiful place full of trees, way out there - I'm jealous and hope it works out for her.
I then headed for home at sunset and played a little bit of radio in the California QSO Party, eventually working about 20 counties out of 58. Fun.
September 2004
Emily and I went to Louisville to see my Ma and her SO, Gary, for a really nice visit. We drove out to Versailles, in the heart of horse country, and toured the LeBrot and Graham distillery of Woodford Reserve Bourbon. Set in a historic and beautiful location, they triple-distill some mighty fine bourbon whiskey in Scots-built copper stills, located in beautifully restored historic buildings. The tour is highly recommended.
Then after stopping off in Kentucky's capital, Frankfort, we headed back to Bowman Field and the (fantastic) restaurant at the terminal, Le Relais. Waiting at dusk, was this beautiful bi-plane, offering rides. When Emily and I reached the table with my brother, Geoff, and his girlfriend, Anne, - he surprised me by saying we were going to take a quick jump up in the plane.
The plane ride was shortened by the deepening twilight, but make no mistake, this was very exciting. Geoff and I both took flight lessons out of this airport in our 'yoot' and this was our first ride in a tail dragger and in an open cockpit. It was exhilarating.
After the ride, we returned to our dates and had the best dinner. The crab cakes and the escargot were just incredible.
August 2004
Emily came to town for a nice visit and we started at beautiful Millennium Park... This sculpture is called 'Cloudgate,' but the locals and tourists alike call it 'The Bean.'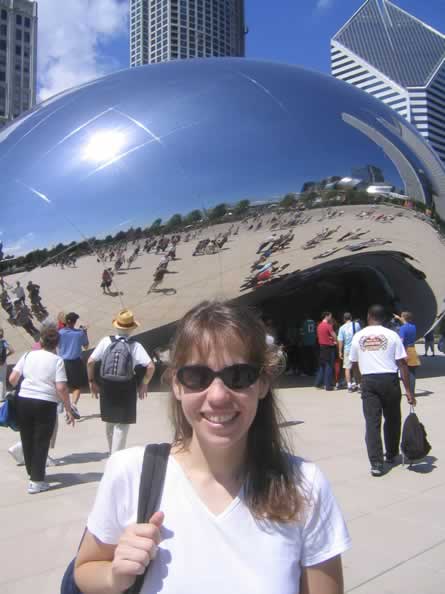 Emily at Cloudgate
We then proceeded to walk up the lakeshore to find ourselves in a crowd of a half million or so on the lakeshore for the annual Air and Water Show.
---
Back from a really great Alan Parsons Live Project concert at the Pabst Theatre in Milwaukee - The first public performances of 'Return To Tunguska' and 'We Play The Game' had the audience completely sucked in - indeed, minutes later all the copies of 'A Valid Path' in the lobby were gone. The live version worked. Need it? Get it here!! Thank you to Alan and Lisa and the band for your hospitality!. Thank you to my friend Sandra for trading her dead-center ticket for my not so dead-center ticket. I had so much fun at this show. I was too busy singing along to shoot pix (and about twelve feet out of flash-range), but I'll steal some from Mike, who sat in the front row. There is nothing I can say to express how much fun this band is - Thank you John, Steve, Godfrey, PJ, Manny and Alan for the music and thank you Lisa for all the coordination and for being so kind to the fans - we adore you. You all made this a real night to remember, and I will. Next up, the Detroit show in about a month. I'm very excited and even more (and more) friends will be coming. It's going to be quite an evening.
On the way home, I watched the lightning from quite a distance move in and I was able to contact a ham radio station in Niger! That was very exciting for me! So seldom do I hear stations in Africa. - My intention is to have a future page that shows my ham radio logs.
---
After FanFest, mi amigo y hermano, Projectronics' lead guitarist, Aarón Mercado, of Mexico City, joined me for the seven-hour trip back to Chicagoland for a sightseeing visit. Aarón had told me that he was bummed that Béla Fleck was going to be playing Chicago, just after he left, so I told him to stick around Chicago and we'd go to the show. Consequently, Aarón got to see a whole lot of Chicago and I got to go to a pretty cool show. My thanks to Aarón for putting up with the crazy commute he had to join me on all week, as I had to work after our great sightseeing day on Monday. I know he enjoyed Chicago and I look forward to his next visit. (Pictures of our adventures to come shortly...)
---
My biggest weekend of the year is always the annual FanFest my dear friends, Scott and Sandra Holder have at the Dauphine Hotel in Bonnots Mill, MO. This year we spoke by phone to both of the creative halves of The Alan Parsons Project, Alan Parsons and Eric Woolfson... a wonderful experience. Coming off of one of the worst colds I've ever had and with the normal butterflies, the tribute band performed Friday night and we sounded better and had more fun than ever. Listen to MP3 versions recorded off the soundboard here. My warmest regards to my dear Emily for joining me in my most important weekend - to my band, Projectronics for making wonderful music together - to Scott and Sandra for setting up a wonderful weekend for all again - to Alan and Eric for caring enough to spend your time chatting with us and keeping us up to date on the new projects and to all the attendees of FF 5.0. My spirit is renewed with each year. I am truly blessed to have such wonderful friends.
July 2004:
Very busy over the last month - have had some great times with Emily here working on the house and lots of other things going on that I've just been to busy | lazy to post up, but I will soon. I'm taking a few days of R & R for my birthday out in Vegas: no 'net, no e-mail, no phones, just fun and food and wandering around.
I'll be back soon. Oh yeah, my 'brother' Jim is quitting smoking for
my birthday, as I requested. You can't get a better present.
June 2004:
Sell This House Blog... my thanks to Emily and her family, Heather, Dale and Pat for bringing their creative ideas and most of all for their hard work getting my place ready for sale. I can't tell you how hard they worked and how much they got done - it was just amazing how much of a difference they all made. Just a few things to go and we'll put out the for sale sign. It's time for me to get out to A2 and either realign my career or go back to school or both.
May 2004:
Just back from rehearsal weekend with the band and a scary drive through the spring storms of Memorial Day across Illinois. More pix to come when I get time to put 'em up. Need Sleep :)
April 2004:
Just back from a really nice vacation in Reno and Tahoe. First went to the last of three Alan Parsons shows at the Nugget and met up with the band and about sixteen of the fans from Roadkill. Emily's brother, Jamie, joined us from San Francisco for the show. After a couple of nights at the Siena Spa and Hotel, we rented a ride and drove down to Stateline, NV for a couple of nice days of sightseeing with my good friend, Wally, who kindly invited us to stay at his timeshare. Here is a gallery of pictures from our great trip. [Update: My good friend, Mike Mantei, has some much better photos of the concert here - Thanks Mike]
March 2004:
No. More. Dialup. My ADSL is up and running, 4 days ahead of schedule (although ten years behind). I'm so fascinated I can't sleep. Current fascination: 'net radio - songs from all mess o' genre. This is gonna rock.
---
What happened in Madrid today is just a kick in the gut in the place that makes me wonder what could possibly make someone angry enough to put 15 kilos of explosive in a bag, take it to a place where you know it will kill people and leave. My thoughts are with my friends in Spain - I hope they are safe - at least for today. My outrage is amplified by my feeling of helplessness. This can and will happen more and more in the future and not just within the realm of groups with a "mission." With a crime of this magnitude and opportunity, we'll begin to see more and I'm in dread mode.
February 2004:
Well, no therapy better than a weekend with my dear friends and my band, Projectronics. I've had a really ugly time of it of late and although rehearsal was work, it was a labor of love. We practiced our show scheduled for August at FanFest, but also spent lots of time getting caught up and laughing. All my love to my fellow band members and friends - you guys are so important to me. [Update: Here are a few photos.]
---
My brother, Geoffrey, AE4RV, came up for a rare visit for his birthday and we had a great time. He gave me some really good lessons in CSS and such and I hope to incorporate what I've learned here real soon. We also had an amazing dinner at Todai at Woodfield. I hope he'll visit again soon.
---
We're back from Florida - my thanks to Emily's family, Dale, Pat and Jamie, for making me feel like family. We went to the Daytona 500 and that *is* a spectacle. Such a large, yet good-mannered crowd, even in less-than-optimal situations, people were good-natured and kind to each other. Congrats to Mr. Earnhardt, Jr. The final battle between he and Tony Stewart was exhaustingly good entertainment.
Separately, the spectacle of seeing that much horsepower pass just beneath you is just incredible. As was the Titan missile that launched Saturday. I was out enjoying the waves when I turned south to see a helicopter gun ship creeping up the coast... at that moment, Emily called my name from shore and pointed north - I turned in time to see the launch. Amazing. It sped up about eight seconds and disappeared into the cloud ceiling.
Thanks to my dear neighbors for the ride!
---
Goodbye to our VE Team's *long* standing cashier and legacy, Ed, K9EWF. Ed is moving downstate and we'll miss him very much. Ed has been a valuable fixture in the local VE community for years and has helped so many hams get their tickets. My friend, Harry, K9HK, and his lovely wife, Mari, held a very nice send-off for Ed. Harry and I have so much in common - ham radio, audiophile-class electronics, space exploration, and music - I so enjoyed a tour of their home. Harry's workshop and shack is so inviting - I'd never want to leave. An immaculate workshop, coupled with a modern and semi-antique radio station. You cannot imagine a more inviting station and basement. I enjoyed the tour and the opportunity to play his nearly century-old Boston-made concert grand piano. What a sound! Thank you to Harry and Mari for hosting Ed's bon voyage party.
---
Had a wonderful weekend with Emily in Chicago - we went to the 2004 Chicago Auto Show and like last year in Detroit, saw so many cool vehicles and got to do lots of people watching. It was fun meeting young folks who would jump in the driver seat next to me and talk about the day they one day would be drivers. I could see how excited they were - just as I once was (and am) about driving. Emily and I seemed to agree on the vehicles we would want - this year, with reality in tow, the Scion xB (hauls lots of guitars, amps and pianos), and the Volvo S40 were our real world favorites. The latter (according to the lovely Swedish representative) comes out in a six-speed manual in May or June, after I complained that it was only an automatic. The weak dollar seems to have hurt imports quite a lot - they are expensive! My hat off to the City for McCormack Place - that's a ton of space (my rough, un-researched estimate, nearly 500,000 sq. ft. for the auto show)... We walked four hours and were exhausted afterward. The parking was easy and accessible. Afterward, based on memory of a recommendation long ago by James Ward (Channel 7's eccentric food critic), we stopped by the White Palace Grill at Roosevelt and Canal for a good old traditional breakfast at four in the afternoon. Good stuff. Next up, the Daytona 500 (and a Titan launch).
January 2004:
Call me strange but should this man spend so much time blogging? Hoe Lee Kao.
---
Happy Mary Myers Day - my dear departed grandma would have been 97 today (23 Jan) had she lived and I celebrate the day. She was such a dear friend for a lonely kid. Shame we didn't live in the same city. I know her daughters, my ma and aunt will be thinking of her.
---
When I leave my work-a-day life for a couple of days and suddenly find myself surrounded by my friends from Roadkill, I feel like a poor, cold man, suddenly bathed in riches and warmth in a way that only good friends can make you feel. We all gathered in Chicago for a couple of midwest shows of Alan Parsons' Live Project. First, Thursday evening, I got to entertain Steve and Sue Martinak for a very nice evening here at home as they escaped the bitter cold of upstate NY. Then, Friday after work, I headed down to Chicago Heights to gather for the first of two regional shows.
I arrived after an hour of dreadful rush hour traffic and met the assembled gang at Aurelio's Pizza in Homewood. I met Joe Stanfa, President of the Chicago Heights Park District. Joe arranged a terrific dinner and private room for the gathering fans. I assure you, we'll see Joe in higher and higher office. He treated the Roadkillers like royalty and we're not even his constituency. I hope some day I can vote for him. If I get in a bind, Joe is the kind of guy I'd like to have on my side and Joe is a big AP fan - it was great to have him join us. Thank you too to Mr. Joey Aurelio, who made a special trip down from home just to say hello to us.
After a long wait in the cold, having ditched our coats in the car, with an approaching ice storm, and it felt like it, we got in at Oasis one-sixty. Lisa so graciously helped me locate my after show pass and then I got down to business of getting reacquainted with friends, some of whom hadn't seen each other since the House of Blues show in Chicago in 1999.
The club played a recording of 'Sheep' by Pink Floyd and Jim Brooks and I ran down to the amplifier down by the stage to sing along. I'd just learned how to play the electric piano part after 24 years of just not even trying (see a pattern?). Jim, besides being my adopted brother, is so much fun to sing with-he digs the songs as much as I do.
After local rock hero, Jim Peterik, formerly of Survivor, and his new band, Pride of Lions, entertained the crowd, Alan and his new band took the stage and blew the roof off. I stood in the second row and had a fabulous time. I saw at least two local news photographers who shot pix next to me and David Ronat was on my right and shot some great pix (as we saw the next day). I'll post what I can beg, borrow or steal soon.
After the show, we went to the reception and I got to chat with keyboardist, Manny Focarazzo for a bit and filmmaker Patrick Johnson, who was filming this show and the next night, to produce a live video at some point in time. I also got to chat with Roadkiller, Roger L. and his lovely fianceé, who are marrying this spring and going to Hawai'i for their honeymoon. We all then hung out for awhile while the band apparently had a devil of a time getting up to Sheboygan, WI in the tour bus in the ensuing ice storm.
We crashed for a night at a local hotel and then we all jumped in cars to head north to Sheboygan. I stopped by home to feed the cats and pick up Emily, who had driven in during the bad weather. We then hauled it all up to Sheboygan. I got to work a few stations in the North American QSO Party as we drove the few hours to the hotel in Kohler, WI. My sincere thanks to Gina Ronat for all of her hard work getting us lodging in Kohler for the Sheboygan shows. She saved all of us a ton of trouble and assured that we could just relax, show up and have fun. The American Club and Inn at Woodlake complex are highly recommended. I worked for a few years for a company in Sheboygan fourteen years ago and it was nice to return to the area.
We all got together at the Hop Haven and wolfed down some dinner before an AMAZING show at the beautiful Stefanie H. Weill Center for the Performing Arts. The venue is a renovated movie house built in the 20's and a beautiful renovation it was. The ceiling has been done in blue sky and fiber optic stars in the shape of real constellations. The largest of the Roadkill delegation sat dead house center and the sound was fantastic. The crowd was very enthusiastic and Alan and the boys played an incredible show. Lead singer, PJ Olsson's parents were in the house and it showed. He was just great. They debuted a new song from Alan's new album coming "any minute now" and it was "More and More Lost Without You."
I finally got to introduce Alan to Emily after the show and a bunch of us headed back to the American Club in Kohler for a nightcap.
The next morning we reluctantly said our goodbyes and we, Gina and David and his friend, Kevin, all met in Cedarburg, WI to tour the winery and the shops in the beautiful and historic town just north of Milwaukee.
Emily has headed for home by this time and I wistfully say goodbye to a really exciting, fun and heartwarming weekend. I thank all of you in the band, and especially all of the fans, whose friendship means the world to me. I'm hoping more shows will get scheduled for the summer and I hope we can see each other many times. The fun keeps me going.
-Thanks again to Gina for all of her hard work getting this all arranged. It went flawlessly thanks only to her organization and dedication.
-Thanks to Joe-We appreciate the set up at Aurelio's and the hospitality-you rock.
-Thanks to all my dear friends at Roadkill, Andy Burnett for setting Roadkill up and for dinner at Hop Haven-yummy! Without you, I'd never have made all these wonderful friends (including yourself) or met the band. Scott and Sandra Holder: For your friendship, for setting up FanFest every year, and we all can't wait to see the result of all the live footage you all shot at the concerts. To my musical director of Projectronics, Mike Dickerson, and his lovely wife, Li'Anne, thank you both for the compliment you paid me Friday night, for just being yourselves and for being here, it was great to see you. To Steve and Sue Martinak, I'll never forget the welcome you both gave me in St. Charles and thank you for joining me for dinner as you arrived. Thank you also for the bottle of merlot - my thank you gift for dinner, you guys are welcome ANY time. Please come back soon. Thank you Gina and David Ronat - such good friends and so good to see you and for such a fun event. Thank you Dave Hannon for being my roomie in Chicago Heights and for the transportation around Sheboygan. Thanks to Mike and Carol Mantei, whom I didn't get to spend as much time with as I'd wanted to. My "brother" Jim and Ann Brooks, how I wish you guys were just around the corner, I love you both so much-It's always a joy to see you. To Larry and sister, Lisa, wonderful to see you both too!
Next up with these guys, a rehearsal at Andy's in Champaign sometime in February. We get some songs down solid, then raid Andy's formidable wine cellar. Sounds. Like. Fun.
---
As I stepped off the train this evening, I looked up in the sky to see Mars and my first thought was, "Jumpin' Jehosaphat on a stick, it's COLD outside!" But, that passed and I thought, "Wow, way to go NASA and JPL et al. That rock is 110 million miles away give or take some change and we just landed the world's coolest golf cart on it!" This is really quite big and now let's plan to get some people up there. I can't wait to see what happens when we get this thing to start driving around and shooting some more pictures.